Production Trucks
Many students rent a truck to haul their grip and lighting equipment. CalArts vans are available to students who have taken the test with the Risk Manager. Please see facilities for more information. If you rent a van or truck, here are some things you need to know:
Insurance
CalArts does provide automobile insurance but student must see Production Services for access. A DMV record and copy of driver's license is necessary. The approval for auto insurance may take a couple of days, so do not wait until the last minute!
Most personal insurance and credit card companies won't cover truck rentals under existing policies. Most rental companies, however, offer options such as a limited- damage waiver that relieve the renter of any loss or damage to the truck, regardless of fault—for an additional fee.
Damage Waivers protect you from certain financial responsibilities for loss (including theft), and damage to the rental truck. There are two different Damage Waivers that are offered:
Physical Damage Waiver (PDW) where you have $0 responsibility for any loss or damage.
Limited Damage Waiver (LDW) where you are responsible for the first $500 of loss or damage.
Overhead damage and "curbing" the tires are excluded from these Damage Waivers.
PDW and LDW are not insurance, they are optional damage waivers.
Supplemental Liability Insurance (SLI) protects you against bodily injury and property damage claims made by others in a covered accident with the truck. It's an "Excess Vehicle Liability Insurance Policy" that provides additional liability insurance.
SLI insures you and authorized operators as defined in the Truck Rental Agreement, against claims made by third parties against you, the customer, for bodily injury/death and property damage caused by the use or operation of the truck.
Who is Driving?
Make sure that the person who is actually going to be driving the truck is listed on the insurance and rental form. Also, be sure and check that the driver has a valid driver's license and verify that they have insurance coverage.
Loading and Unloading
The lift gate should be operated by only one person. The operator should give a verbal warning, "going up" and "going down." Crew not operating the lift gate should stand well clear of the lift. Use truck shelves and racks and ratchet straps to tie off equipment.
4. Driving
First familiarize yourself with driving a truck. Here are some guidelines:
Make sure your load is properly placed and secured.
Before you hit the road, get comfortable with the truck's switches and gauges. Driving a truck will feel different than driving a car. For one thing, you will likely be sitting above the front wheels, so turning corners will take some practice. Adjust your mirrors before you hit the road. Remember, you won't have a direct rearview mirror, so make sure your side mirrors are in the right place for you.
Trucks are taller and wider than cars and need greater overhead and side clearance. If the height and width of the vehicle is not indicated on the truck, be sure to get this information from your rental agent. Be alert for low bridges and tree limbs, as well as canopies at service stations, fast food restaurants, motels, etc. Almost all rental insurance excludes "overhead damage" – that is, to the top of the box.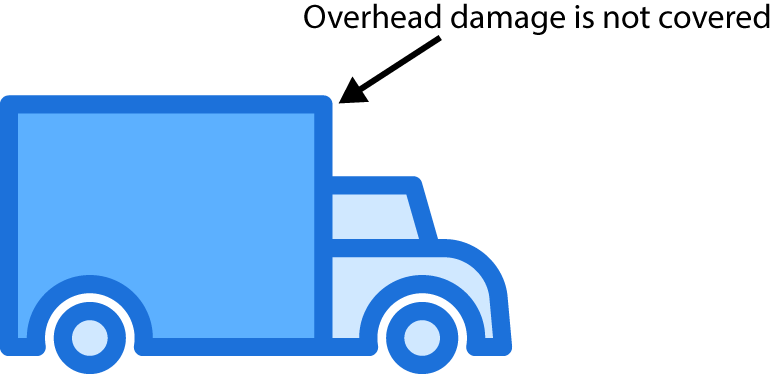 Try to drive in the center lane on city streets as much as possible to avoid tree limbs and curb damage.
Always use your turn signals and avoid making sudden stops or abrupt lane changes.
Use caution at intersections. Before crossing an intersection, check left, then right, then left again. Obey all traffic signs and lights.
You won't accelerate that fast, so pull into faster lanes of traffic with caution.
The recommended maximum speed for a loaded truck is 45 mph. Do not attempt to pass a vehicle moving faster than 40 mph. Never pass on hills or curves.
Your truck is probably wider than the cab, meaning you have to drive more in the center of the lane.
Never tailgate. Trucks weigh three to ten times more than cars and must have more time and room to stop.
You must begin braking sooner, particularly when you have a load.
Always look for an area that provides "drive thru" parking spaces. Avoid backing up as much as possible. If you must back up, ask someone to direct you from the side at the rear.
Set the hand brake every time you park. Turn the wheels away from the curb when parking with the truck faced uphill. When parking with the truck faced downhill, turn the wheels toward the curb.