A404 Black & White Studio
Please note: Due to COVID-19 safety measures these areas may be arranged differently than pictured or described.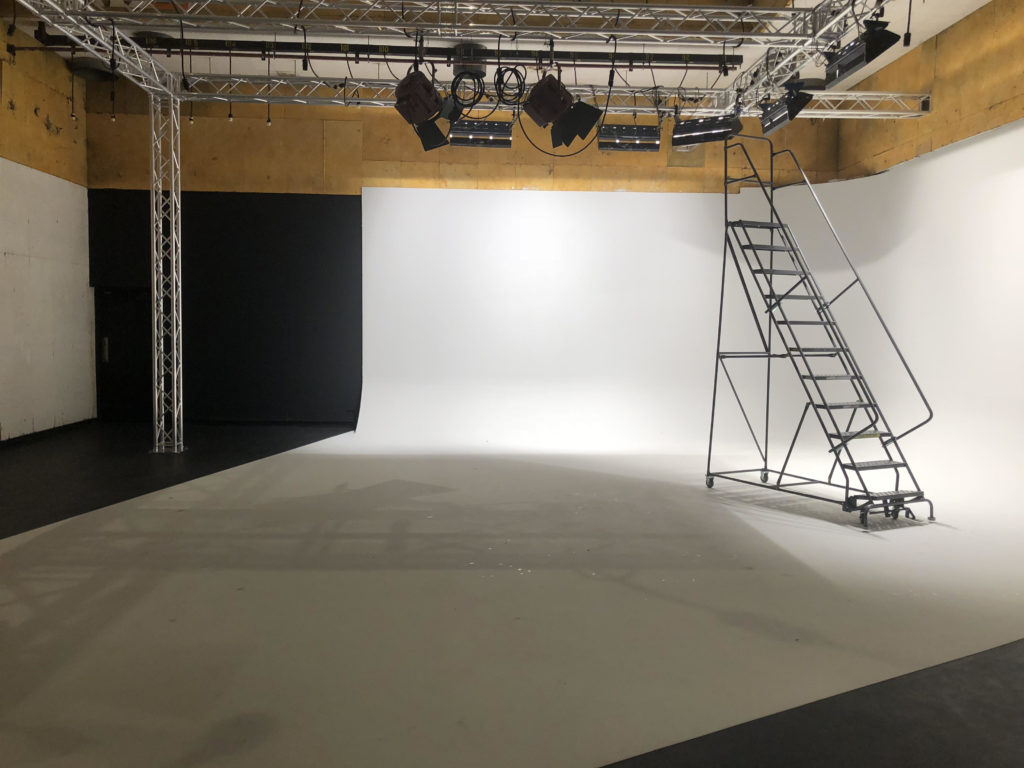 In this 1600 sq. ft. multi-use production and installation space, roughly half the space is painted black, and diagonally in the center is a white L-shaped cyclorama wall. The room includes a rolling step-ladder and truss to hang lights and installation equipment. Adjacent to the main space are two rooms — 150 sq/ft and 450 sq/ft respectively. These rooms are also multi-use, but the larger one is generally used as storage. There are lights, a lighting truss, and various pedestals for installations.
Calendar
Equipment List
GRIP AND ELECTRIC
(1) Hand Cranked Combo Stand
(1) Stirrup Hanger
(5) C-Stand
(6) Gel Holder
(5) Twist Stinger
(3) Twist Extensions [black]
(5) 25 ft. Edison Stinger
(1) 50 ft. Edison Stinger
(4) Power Strip
(6) Grip Clip
(1) Scrim Box
(10) Sandbag
(18) Safety Cable
(1) 4×4 Floppy Flag
(3) Medium Flag
(3) Single Net
(3) Double Net
(3) Silk
(1) Solid Cookie
(1) Mesh Cookie
(2) Tan Apple Box Set [(2) full, (2) half, (2) quarter, (2) pancake]
(11) Black Apple Box [various sizes] Assorted Gels and Diffusion
LIGHTS ON GRID
(5) Cyc Lights
(3) 2K Fresnel
LIGHT ON STANDS
(1) 2K Fresnel
(1) 2K Softbox
(1) Baby 2K Softlite
(1) Colortran Broad 500W
(1) Rolling Light Stand [without a light]