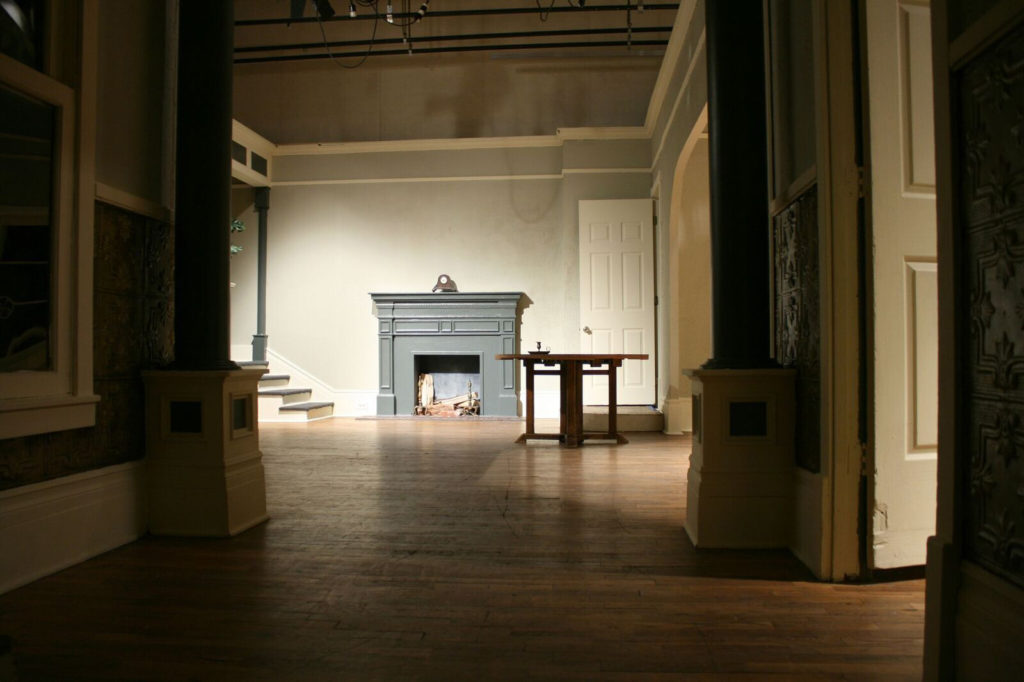 This production set replicates the interior of a house complete with hardwood floor. The three main spaces are a living room, a kitchen, and a hallway; also including a staircase landing, a bookcase, a fireplace, and an exterior window wall. There is a lighting grid and a lighting board.
Calendar
When checking for available times, be sure to look at multiple-day reservation blocks that appear at the top of the calendar.
Having trouble viewing the calendar? Try viewing this page in Google Chrome, or click the link below.
Equipment List
GRIP AND ELECTRIC
(1) Hand Cranked Combo Stand
(2) Stirrup Hanger
(5) C-Stand
(5) Twist Stinger
(5) 25 ft. Edison Stinger
(1) 50 ft. Edison Stinger
(4) Power Strip
(5) Twist Extension [yellow]
(3) Edison – Twist Adapter
(6) Grip Clip
(4) Scrim Box
(10) Black Sandbag
(11) Safety Cable
(2) Rolling Lamp Boom
(1) 4×4 Floppy Flag
(3) Medium Flag
(3) Single Net
(3) Double Net
(3) Silk
(1) Solid Cookie
(1) Mesh Cookie
(2) Apple Box Set [(2) full, (2) half, (2) quarter, (2) pancake]
Assorted Gels and Diffusion
LIGHTS ON GRID
(1) LED Fresnel
(3) 2K Fresnel
LIGHT ON STANDS
(1) HMI [with lens box and ballast / ballast cable]
(2) LED Softlite
(2) LED Fresnel
(1) 2K Softbox
(1) 1K Fresnel
(1) Teenie
(1) Rolling Light Stand [without a light]
EXHIBITION / CLASS SUPPORT
(1) TV Monitor on Rolling Stand
(1) White Board on Rolling Stand
Floor Plans