C115 Video Studio Sound Stage
Please note: Due to COVID-19 safety measures these areas may be arranged differently than pictured or described.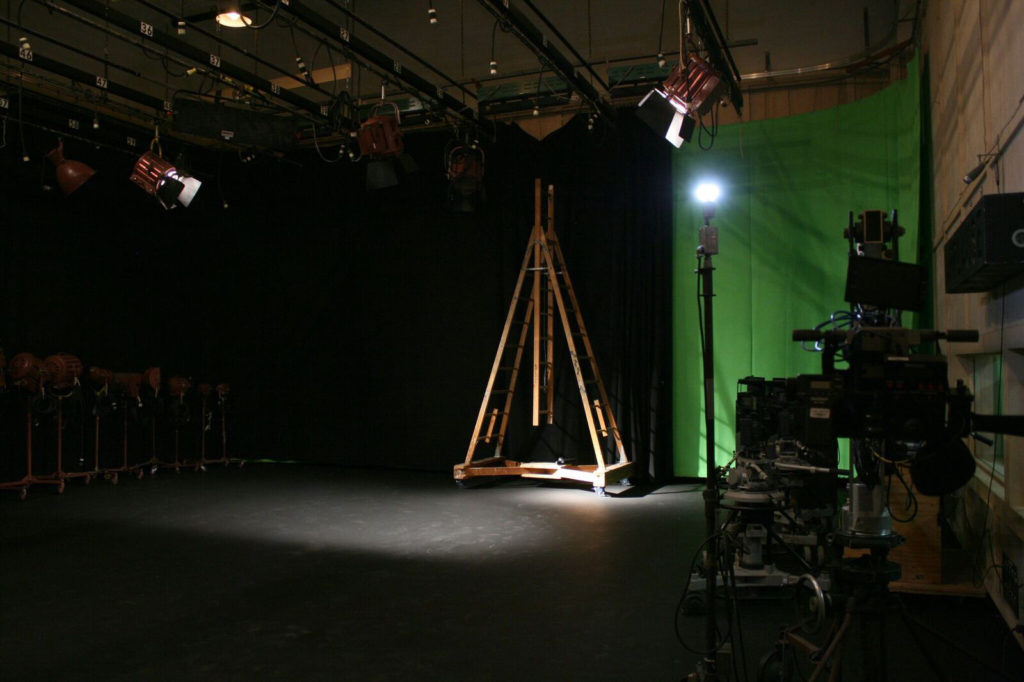 This production space is used for classes, shoots, and installations and is 1400 sq. ft. There is a lighting grid with movable lights as well as two rows of fixed lights. The floor in the Video Studio is smooth and level, which is unique to our production spaces. A fixed green screen curtain and flooring are available for digital compositing. There is also a slidable black curtain. Equipment includes floor lights, display monitor, and basic grip equipment.
Calendar
Equipment List
GRIP AND ELECTRIC
(1) Hand Cranked Combo Stand
(2) Stirrup Hanger
(6) C-Stand
(6) Twist Stinger
(5) Twist Extension [short]
(6) Edison – Twist Adapter
(5) 25 ft. Stinger Edison
(1) 50 ft. Stinger Edison
(6) Grip Clip
(2) Scrim Box
(10) Black Sandbag
(4) Orange Sandbag
(15) Safety Cable
(1) 4×4 Floppy Flag
(3) Medium Flag
(3) Single Flag
(3) Double Net
(3) Single Net
(1) Solid Cookie
(1) Mesh Cookie
(2) Apple Box Set [(2) full, (2) half, (2) quarter, (2) pancake]
(8) Black Apple Box [various sizes] Assorted Gels and Diffusion
LIGHTS ON GRID
(9) Cyc Light
(5) 2K Fresnel
(1) Open-faced 2K
(1) Small Source 4
LIGHT ON STANDS
(1) Softlight 2K Large
(1) Softlight 2K Small
(1) Midget Solarspot 200W
(1) LED Fresnel

EXHIBITION / CLASS SUPPORT
(1) LCD Monitor on Rolling Stand
(2) QSC Speaker
(2) Ultimate Speaker Stand
GREEN SCREEN
(2) Green Screen Flooring Roll
(3) Green Screen Gap Wedge