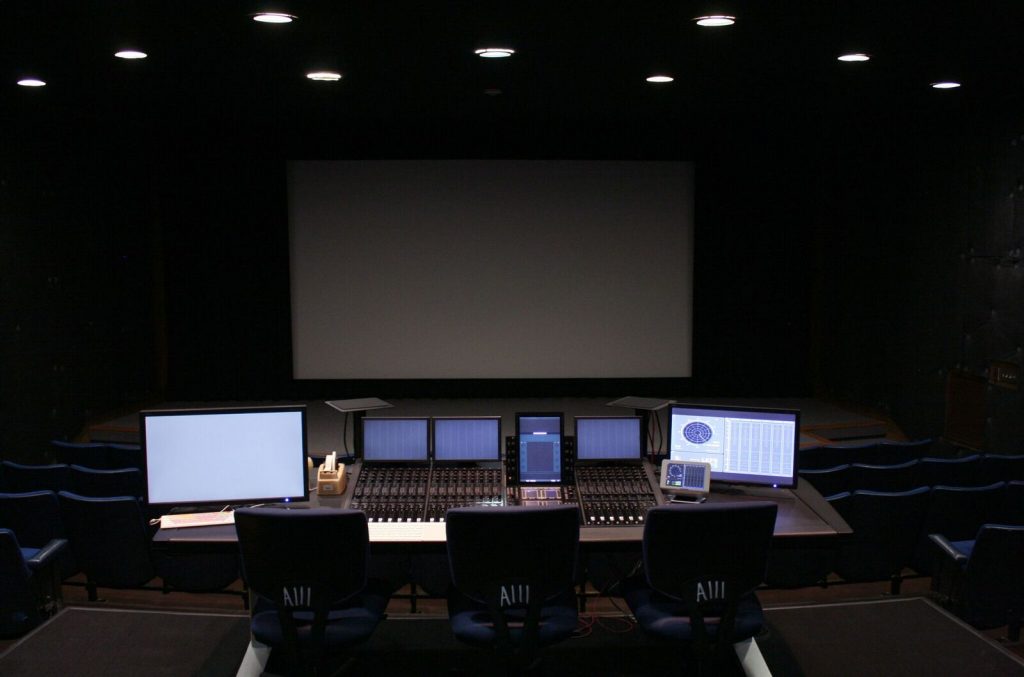 The mix theater employs a Pro Tools Ultimate system for audio editing and mixing. The space is calibrated for monitoring in theatrical 5.1 surround sound with industry standard JBL cinema surround speakers and projected picture. An industry-standard Avid S6 M40 control surface with 24 faders allows for audio editing, routing, mixing, and real-time automation in Pro Tools from the console itself. Test playback of DCPs (Digital Cinema Packages) is also available in this room, as scheduling allows.
A111 is not a 24-hour space; it is closed from 4:00 am – 7:00 am when there is no HVAC.
Access
A111 Mix Theater is primarily used for mixing final thesis projects by FVSound Faculty and Staff.
Independent access to A111 Mix Theater can be granted to those who complete the Sound Technician Course. Availability of the studio in the later part of the Spring Semester is extremely limited, as it is primarily reserved for thesis mixes. FVSound offers mixes in this space either by faculty or Sound Student Technicians as needed.
To inquire about mixing, ask a Sound Student Technician in E104 Sound Transfer, or contact FVSound faculty or staff.
Visit the Sound Mixes page for more information about this service.
Calendar
Having trouble viewing the calendar? Try viewing this page in Google Chrome, or click the link below.