About Your Layback
Your film is now mixed and the final outputs finished! Here is an outline of the media FVSound will deliver to you for distribution.
The Layback Folder
Once we have completed the layback process, FVSound will provide you with a folder containing all the necessary files for:
File-based exhibition in 5.1 surround sound
Internet Only sharing
DaVinci Resolve project archive with one master timeline
Your Internet Only video file is mixed with ~ 10dB of additional gain.  It should only be used for internet sharing and not for theatrical exhibition or DVD/Blu-ray authoring.
In your Layback folder, you will find:
Your Master file, which is a Quicktime movie with standard leader for 5.1 surround sound playback, and an Internet Only MP4 file with no leader for internet upload. (Note: while CalArts is remote, your Master file will have no leader.)

A DaVinci Resolve library which contains all the project information and media for your layback.

Relinking Your Media in DaVinci Resolve
When you open the DaVinci Resolve project file (.drp), your audio and video files within the project may not be automatically relinked. To relink your media: select all clips that need to be relinked, right click > relink selected clips… > navigate to the correct project folder.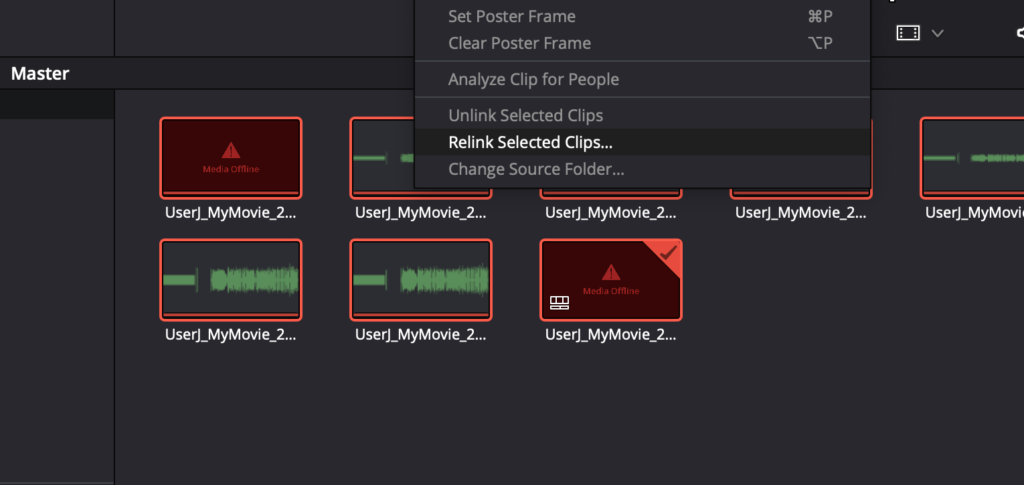 Frequently Asked Questions
Q: If my film was mixed for 5.1 surround sound, what's an LtRt Mix?
A: The LtRt mix is a 2-channel stereo version of your surround sound mix that is compatible with Dolby Surround or Pro Logic II playback. If available Dolby surround decoders may approximate your 5.1 mix. The LtRt mix should be used when discrete 5.1 playback is unavailable.
Q: What is the Internet Only output?
A: This video file output is designed only for internet-based sharing on Vimeo, YouTube, etc. Due to the limitations of internet audio playback on laptops and various wireless devices, this version of your soundtrack is created along with your final sound mix. The internet version is optimized for playback ONLY from the internet with audio compression that results in an additional 10dB of gain. Do not use your Internet Only QuickTime file or mix for theatrical exhibition or DVD/Blu-ray.
Q: Leader, no leader?
A: The requirements for file-based video exhibition vary case by case. Some exhibitors will require leader, some will not. Some may require bars and tone, some may require only two seconds of black, etc. You have all the tools necessary to output a file based on the specific requirements of the film fest or gallery.
For further questions or concerns contact: fvsound@calarts.edu