School of Film/Video Wintersession Virtual Conference
January 11-22, 2021
---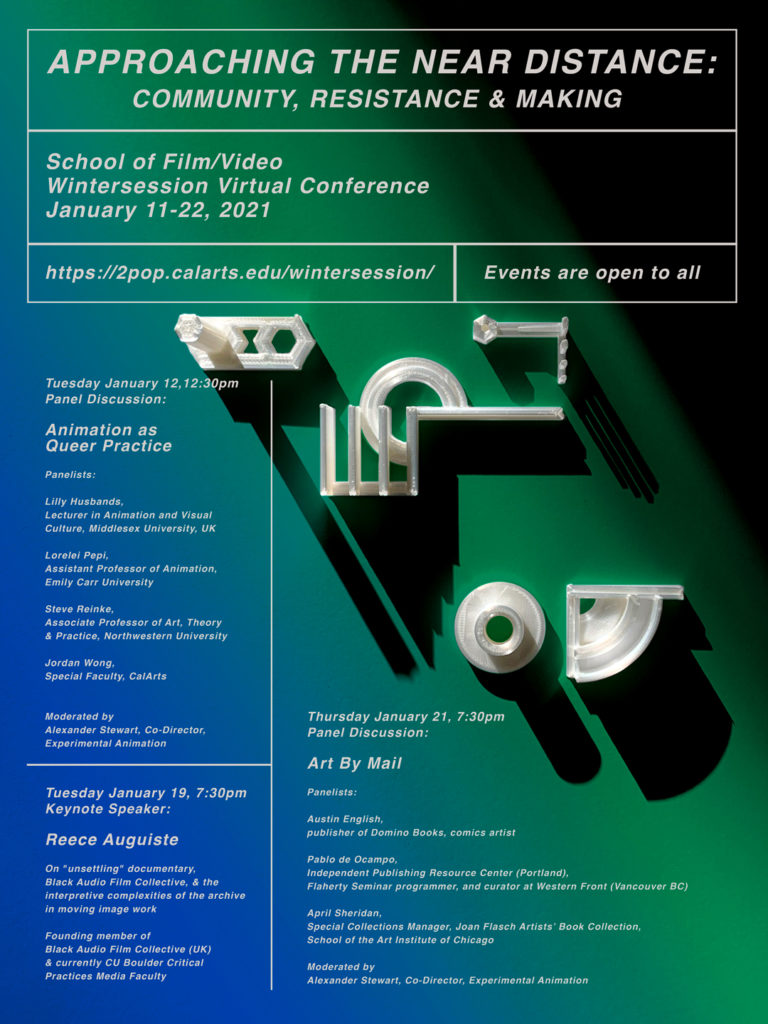 ---
Panel Discussion: Animation as Queer Practice
Tuesday January 12, 12:30pm (Pacific Time)
with Lily Husbands (Lecturer in Animation & Visual Culture, Middlesex University, UK), Steve Reinke (Associate Professor of Art, Theory & Practice, Northwestern University), Jordan Wong (Special Faculty, CalArts), and Lorelei Pepi (Assistant Professor of Animation, Emily Carr University). Moderated by Alexander Stewart, Co-Director Experimental Animation.
---
Keynote Speaker: Reece Auguiste
Tuesday January 19, 7:30pm (Pacific Time)
Auguiste is a founding member of the Black Audio Film Collective (UK) and currently CU Boulder Critical Practices Media Faculty. Auguiste's talk for Wintersession will address the interpretive complexities of a media archive and the use of archival materials in documentary moving image art. He will also speak about the currency of documentary co-creation, and his experience working within Black Audio Film Collective (UK, 1982-98), a group of young, mostly immigrant filmmakers who challenged existing cinematic forms of expression to comment on contemporary social emergencies. In a recent (Sept, 2020) open online discussion group on Unsettling Documentary, Auguiste commented on the urgent need to consider new pedagogical models, and he will bring this concern to his Approaching the Near Distance talk as well: "The coronavirus is unsettling, and it has unsettled all of us including our institutional affiliations…Our job, I think, is to not only develop new pedagogical models in the context of Covid-19 but to encourage our students to explore new epistemic territory, to develop their own models of creative practice and central to this transformation is co-creative practices…It's going to be a slow burn—Covid-19 has lit the fuse of this decolonial project."
This event is sponsored by the Nick England Intercultural Arts Project
---
Panel Discussion: Art By Mail
Thursday January 21, 7:30pm (Pacific Time)
with April Sheridan (Special Collections Manager, Joan Flasch Artists' Book Collection, SAIC), Pablo de Ocampo (Independent Publishing Resource Center—Portland, curator at Western Front—Vancouver),and Austin English (publisher of Domino Books, comics artist). Moderated by Alexander Stewart, Co-Director Experimental Animation.