Pro Tools Installation & Activation
This article explains how to install and authorize Pro Tools software on Mac systems, with Windows instructions below. For instructions on obtaining Pro Tools license and redeeming your activation code, see the 2Pop article Using Avid Pro Tools or Media Composer at Home. This article picks up where that one left off.
System Requirements and Compatibility
An Internet connection is required to download, install and authorize Pro Tools software.
For complete system requirements and a list of qualified computers, operating systems, hard drives, and third-party devices, visit www.avid.com/compatibility.
If you are using macOS Catalina, be aware that there are file type limitations in Pro Tools, go to Avid's Support page for more info at: http://avid.force.com/pkb/articles/compatibility/Pro-Tools-Catalina-File-Type-Support.
Installing Pro Tools on Mac
To download the Pro Tools Installer, sign into your Avid account and click on My Products and Subscriptions.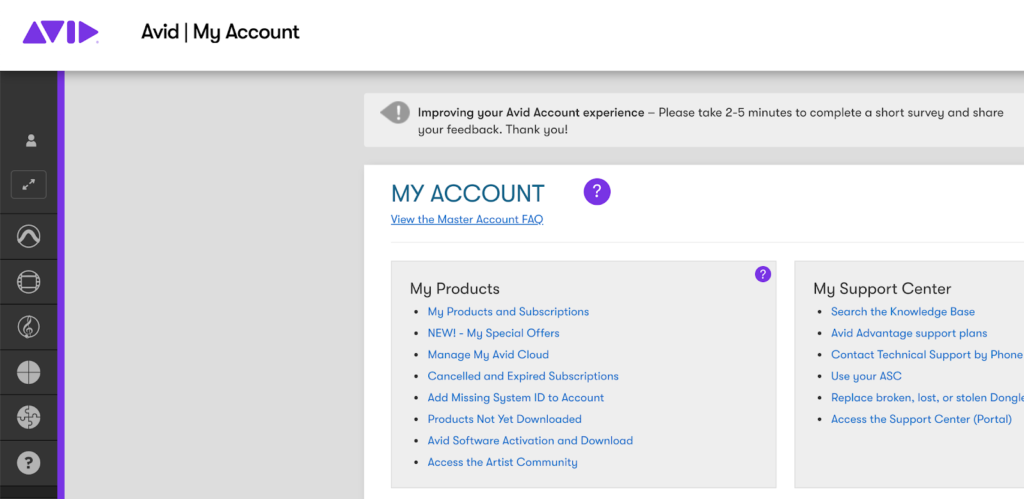 In the list of products, click Pro Tools | Subscription Student/Teacher to reveal the product details.

If you don't see "Active" here with a green checkmark, that mean you have not completed your academic eligibility verification. Follow our full instructions on 2 Pop here: https://2pop.calarts.edu/technicalsupport/ilok-avid-master-protools-media-composer/#articleTOC_5
Click on VIEW Software Download Links & Product Details. Select Mac or Win according to your operating system. Look for Pro Tools 2020.9.1 Installer, which is the most recent version of Pro Tools.

Once downloaded, open the Pro Tools disk image. Double-click Install Pro Tools.pkg.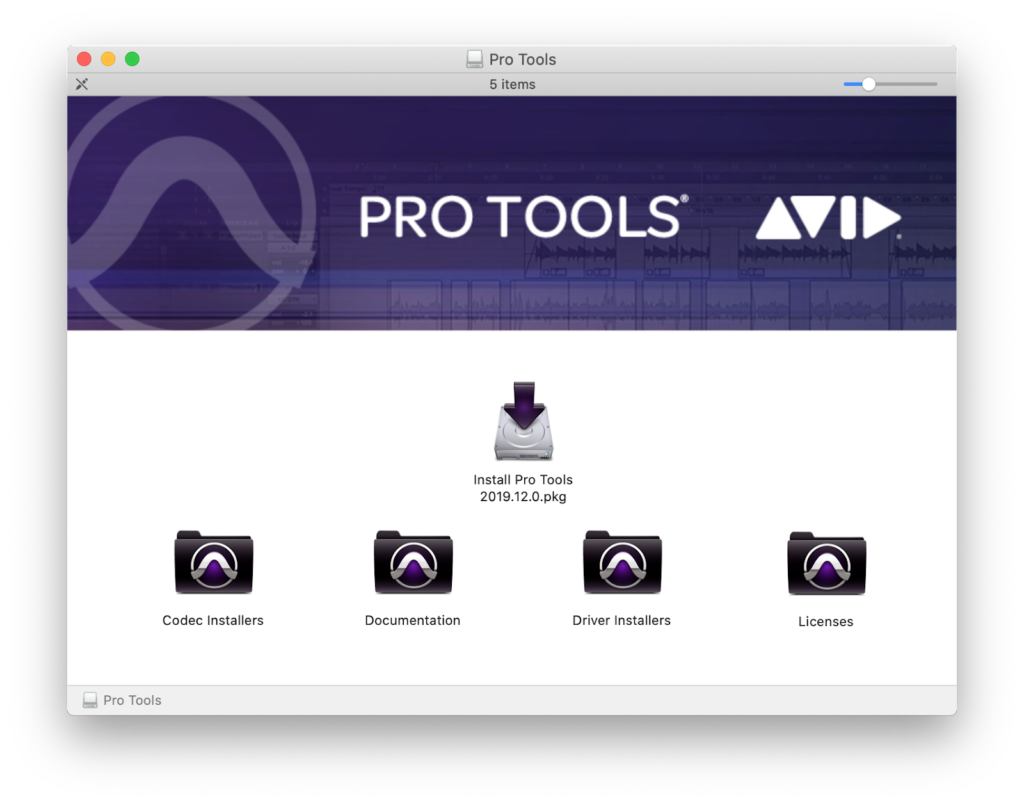 Follow the on-screen instructions to continue installation. Once the installation is complete, click Close.
Avid Link
When you install Pro Tools, the Avid Link application is also installed. The Avid Link application is used to manage all software related to your MyAvid account. Avid Link helps you maintain the most current Pro Tools software and audio plug-in updates that you are entitled to when new versions become available. Generally, you shouldn't need to interact with Avid Link too often, if at all, but see the Avid Link page for more information.
Launching and Authorizing Pro Tools
If you have an audio interface, make sure it is connected to your computer and powered on.
Launch Pro Tools. Pro Tools will ask to install a helper tool. Authenticate and click Install Helper.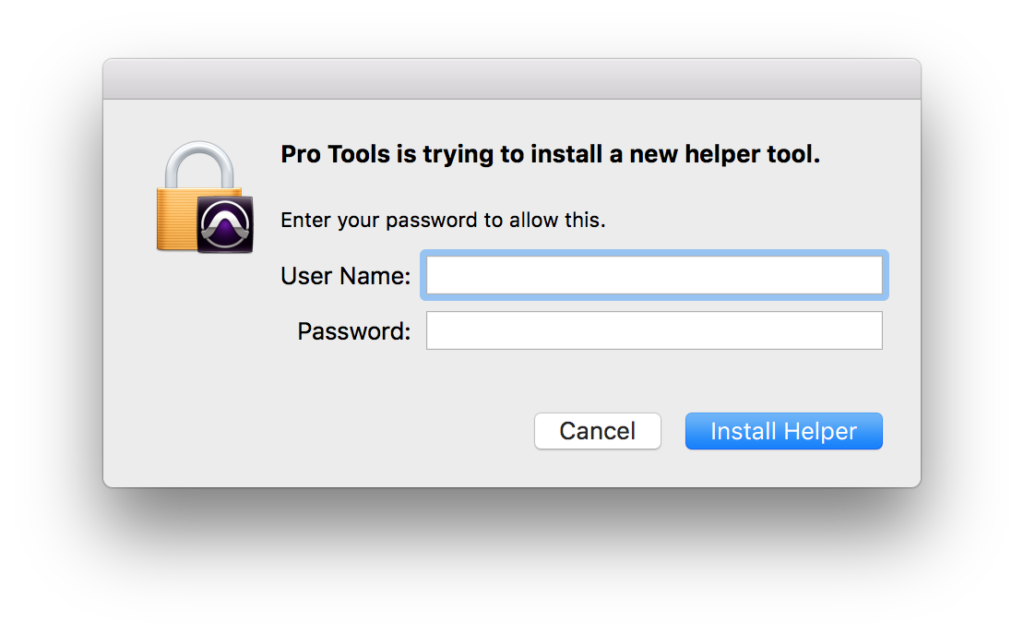 When the Pro Tools activation screen appears, click Activate.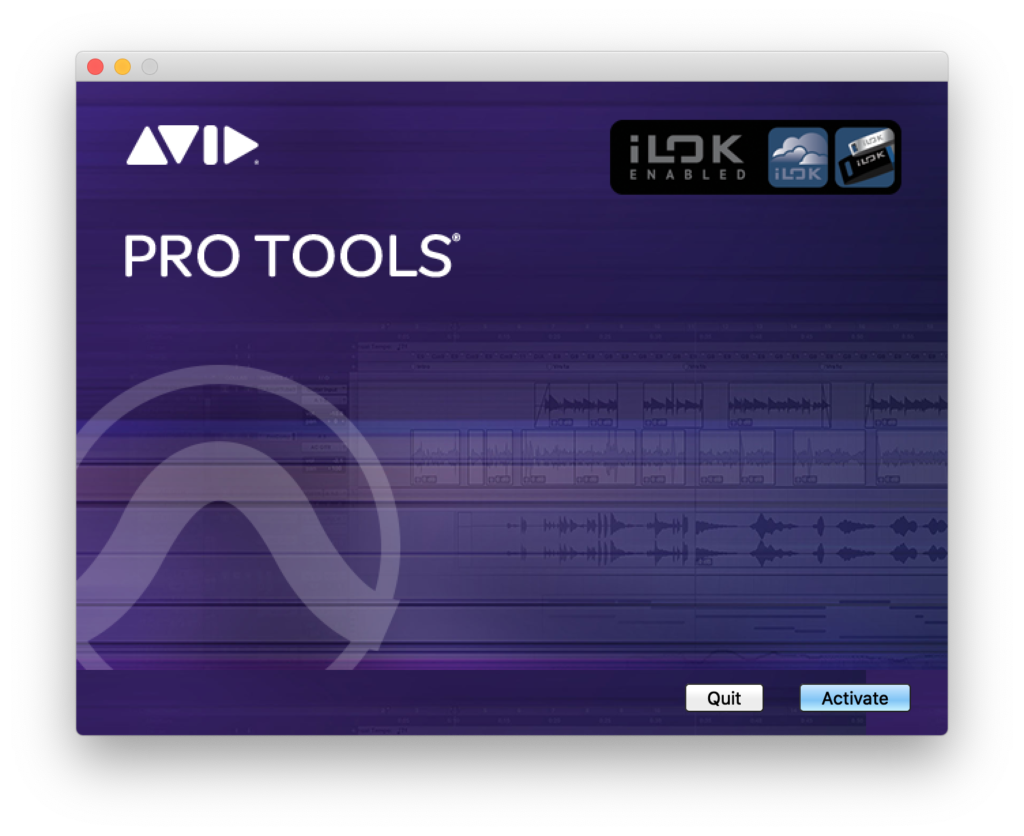 It will prompt you to log into your iLok.com account. Enter your credentials and click Next.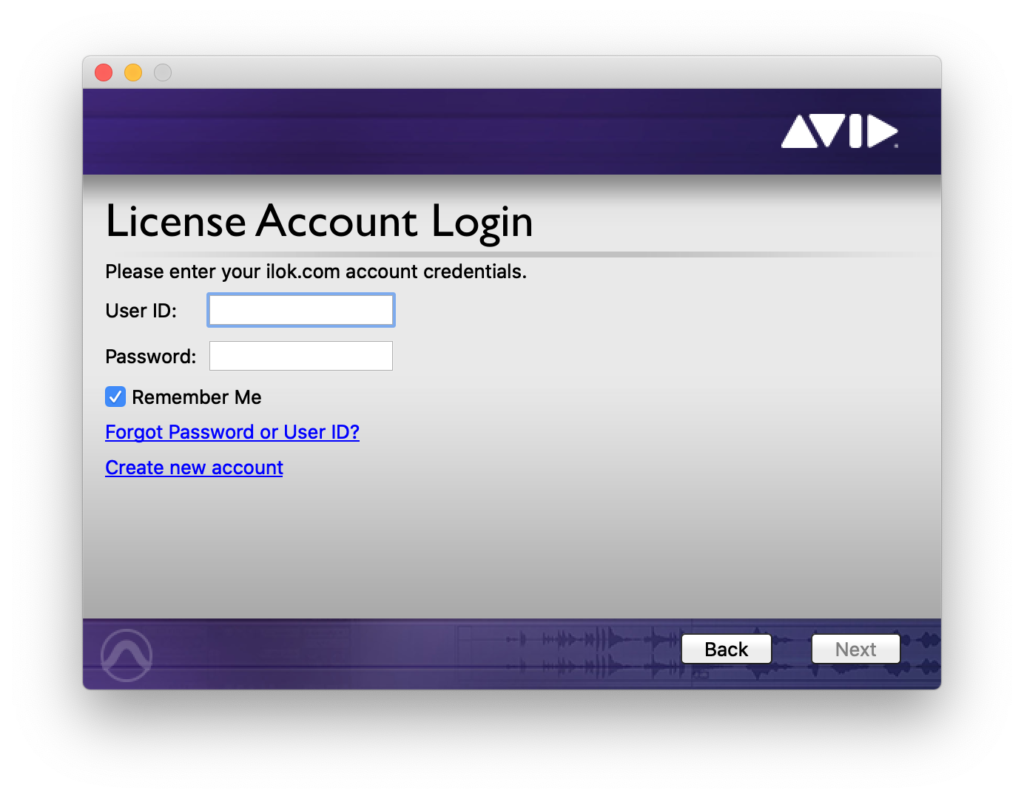 Next you'll see a confirmation window asking if you want to open an iLok Cloud Session. Check Always do this without asking again. Click OK to begin using iLok Cloud.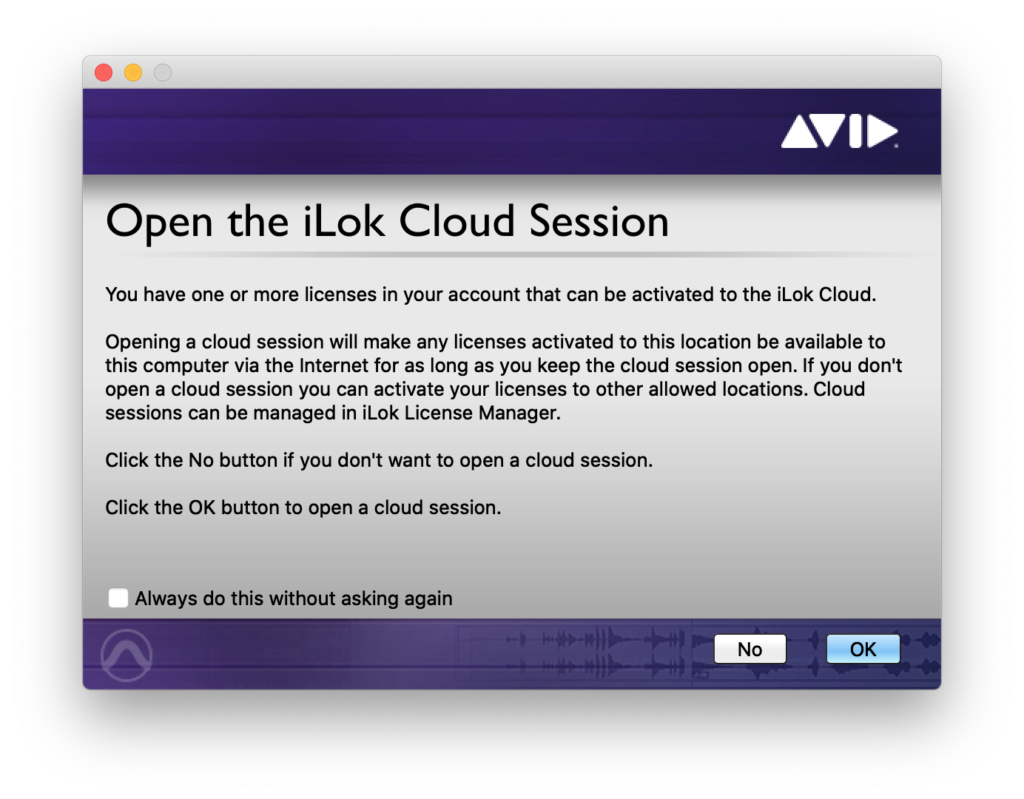 Checking "Always do this without asking again" will begin a persistent iLok Cloud Session, and you will remain logged in until you choose to "Close Cloud Session" in iLok License Manager.
Another window will pop up notifying you that the login and initiation of the iLok Cloud Session was successful. Click Next.

You can double-check this by launching the iLok License Manager app. It will show iLok Cloud under the Local sidebar when a Cloud Session is active. Any licenses that are Cloud-enabled will now show up in this section (instead of under the normal list) and will be allocated to the active Cloud Session

After activation is complete, Pro Tools will continue to launch.

Installing the Pro Tools FV Edit Templates

Download the FV Edit templates as a .zip file by clicking the button below

After downloading, unzip the file.
Drag the unzipped FV folder to ~/Documents/Pro Tools/Session Templates.

Now, when you go to open a new session, check Create From Template. Click the Template Group dropdown to see the installed templates. Choose FV.

You'll now be able to create a new session from an FV template which matches your project settings.

Installing Pro Tools on Windows

The following instructions for installing Pro Tools on Windows comes from these two Avid articles:
Make sure you are logged in as an Administrator for the account where you want to install Pro Tools.
Download the Pro Tools Installer from your online Avid account.
Do one of the following:

If Windows AutoRun is enabled, a mini-browser appears. Select Install Pro Tools to begin installation.
If Windows AutoRun is disabled, locate and double-click Setup.exe, and then select Install Pro Tools to begin installation
On Windows, if the User Account Control dialog appears, click Allow. Several messages are displayed during installation that can be ignored, including multiple "Found New Hardware" dialogs and "A Problem Occurred During Hardware Installation." If you get a warning dialog about the driver not passing Windows Logo testing, click Continue Anyway.
Follow the on-screen instructions to continue installation.
When the Install Wizard is done, click Finish.
Windows users who do not have a dedicated audio interface should also consider installing and configuring ASIO4ALL from http://www.asio4all.org/ (without which Pro Tools will not be able to play audio through the built-in speakers of a Windows computer).
Although these steps suggest that you can use ASIO4ALL with Pro Tools, ASIO4ALL is not officially supported or qualified by Avid for use with Pro Tools. We have found this configuration to work best for customers, but it has not gone through Avid's qualification processes. For a list of officially supported audio interfaces, refer to the Pro Tools system requirements pages.
Additional Plugins
Your Pro Tools Subscription includes licenses for plugins listed below. We encourage you to download and explore them, particularly the First AIR Effects and Avid Complete Plug-In Bundle!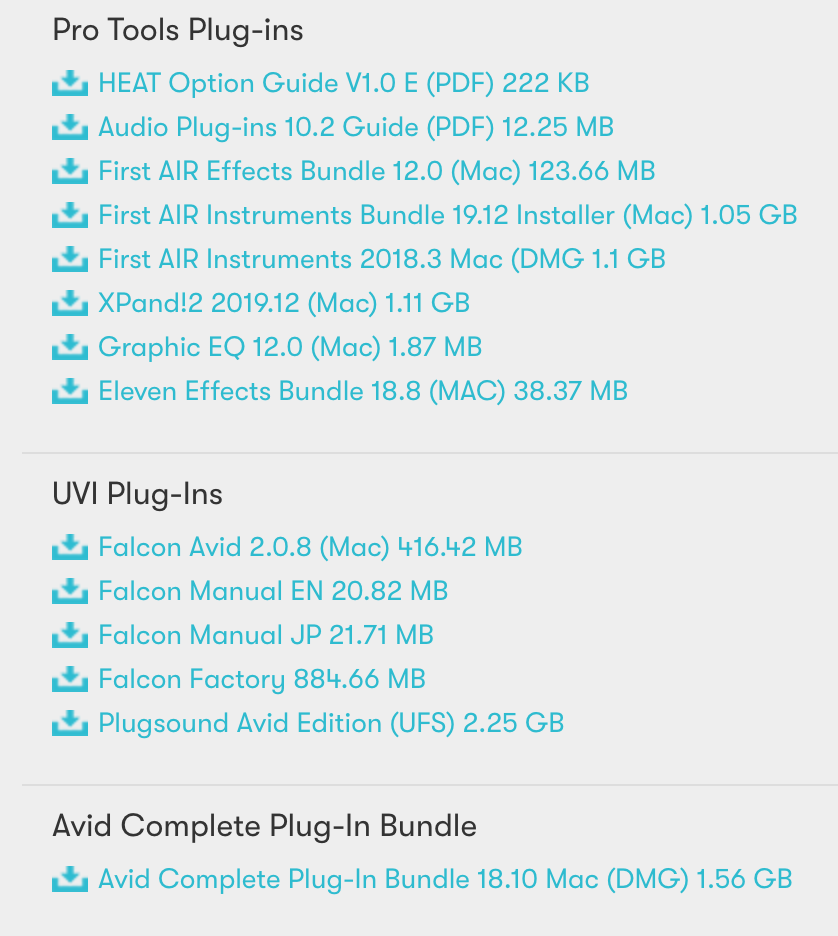 Starting Up or Shutting Down Your System
To ensure that the components of your Pro Tools system communicate properly with each other, start up your Pro Tools system in this order:
Make sure all your equipment (including your computer) is off.
Lower the volume of any external output devices in your system.
Turn on any external hard drives. Wait ten seconds for them to spin up to speed.
Turn on your computer.
Launch Pro Tools.
Shut down your Pro Tools system in this order:
Quit Pro Tools (on Mac: Pro Tools > Quit, or on Windows: File > Exit).
Turn off or lower the volume of any external output devices in your system.
Turn off your computer.
Turn off any external hard drives.
Optimizing your computer for Pro Tools | Software
To ensure optimum performance with Pro Tools, configure your computer first. For a complete list of recommended optimizations for your operating system, visit www.avid.com/optimize.
For detailed information on configuring and operating your Pro Tools system, see the Pro Tools Reference Guide or the Pro Tools Documentation article.