Moving from Avid Media Composer to Pro Tools
You've locked picture. That's great, you're on your way. Now it's time for intensive sound editing and design. You need to get sound and picture out of Media Composer.
You will create two files out of Media Composer:
A Quicktime Movie optimized for working in Pro Tools
An AAF, or Advanced Authoring Format, which is a multi media file format that allows for the interchange of media and editorial metadata between compliant applications such as Media Composer and Pro Tools
For our purposes, we will be creating an AAF that contains your sound edit in addition to a copy of the source media. Unlike the OMF file format, an AAF does not have a maximum file size. You may export all audio and editorial work as a single file.
Before You Begin
In order to maintain sync throughout this process, ensure that you are using 1:30-long head leader and that your timeline starts at 0:58:30:00. Click on the Start timecode for the sequence in the bin, type in 00583000, then click outside the bin. Avid will ask "Are you sure you want to change the starting timecode?" Click Ok. Your leader also must include a 2 pop at 00:59:58:00.

Technical Staff have created 1:30 leader files to match various project settings. They can be found at FVCentral > Support > Leader [ProResHQ] or on 2Pop here.
Perform a video mixdown to ProRes HQ MXF to ensure proper video export from Media Composer. Go to Timeline > Mixdown > Video, choose ProRes HQ MXF as the resolution and click Ok.
This process will generate consolidated files for use with Pro Tools. To keep these files separate from your master files, create a new bin and label it Pro Tools.
Exporting Sound and Image
Duplicate your final sequence and place the Video Mixdown into it with your audio. Check for sync and move this duplicate sequence into the For Pro Tool bin.

Select the audio and video tracks you wish to export in the timeline by clicking on the track buttons (i.e. V1, A1, A2, etc). In addition, make sure that none of your audio tracks are muted and that the track power buttons are on for all audio and video tracks.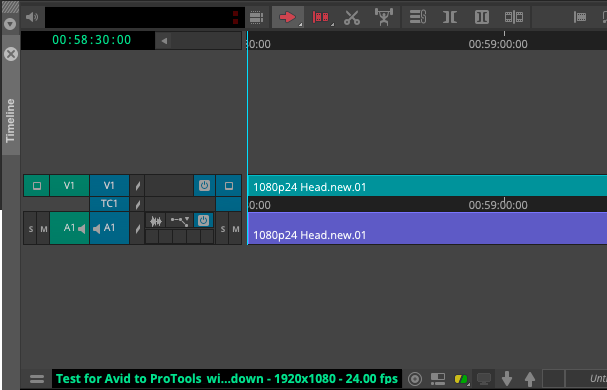 Select the appropriate sequence from the bin and go to File > Output > Send To… > Pro_Tools_11_and_Higher > Consolidate.
The Send To… dialogue box will open. This process is twofold: Media Composer will generate a reference video for use in Pro Tools and several files and folders for audio (an AAF file, an Avid MediaFiles Folder, and an OMFI MediaFiles folder). All are necessary for Pro Tools to read the AAF file correctly. Create a new folder for the AAF materials and set it as the destination.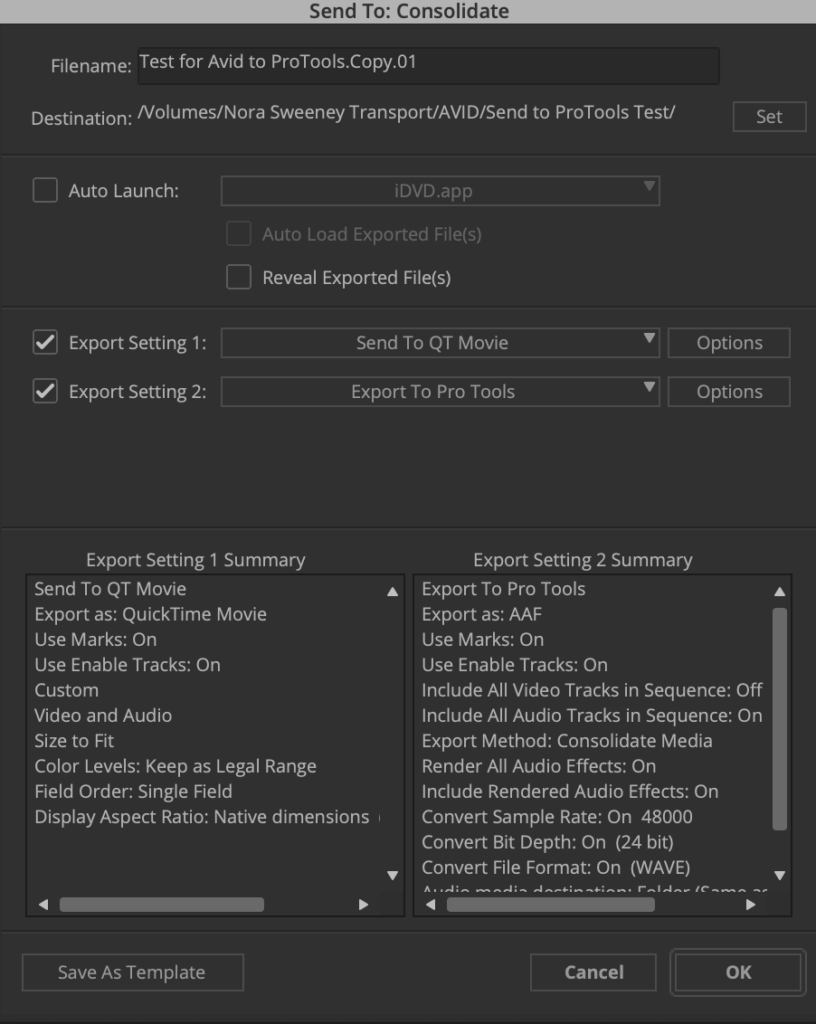 Ensure that Export Setting 1 is checked and set to Send To QT Movie. Click Options to determine the settings.
The Export Settings presets listed in this handout are specific to the CalArts User Profile, which can be found at FVCentral > Support > Avid Media Composer Resources. If you are not using the User Profile, make sure the Options reflect the specific settings listed in this handout.
Ensure that Use Marks, Use Selected Tracks, and Include Inactive Audio Tracks are unchecked and Video Only is checked. In the Width x Height section set the aspect ratio by clicking the aspect ratio icon: Use 1920 x 1080 for shorter projects, but if your project is longer and you have a disk space issue, it may be beneficial to downres to 864 x 486 (16:9 square pixel). Check Size to Fit. In the Color Levels section check Keep as Legal Range. In the Display Aspect Ratio section, check Native Dimensions (1920 x 1080 or 864 x 486). Then check Custom and click Format Options.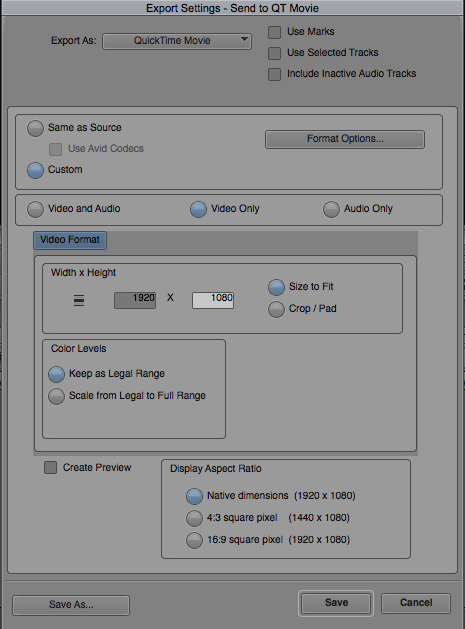 In the Movie Settings Window, ensure that Video is checked; Sound and Prepare for Internet Streaming should be unchecked. Then, under Video, click Settings.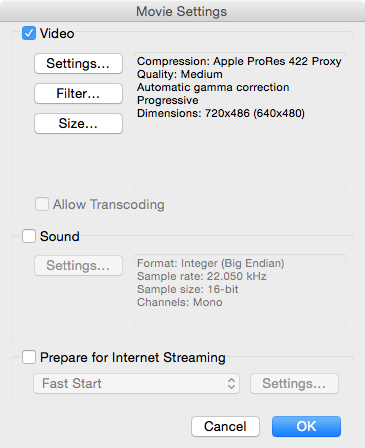 In the Standard Video Compression Settings window set Compression Type to Apple ProRes 422 Proxy. In the Motion section set Frame Rate to Current. In the Compressor section select Automatic for Gamma Correction and leave Interleaved and Enable chroma filtering for 4:4:4:4 sources unchecked.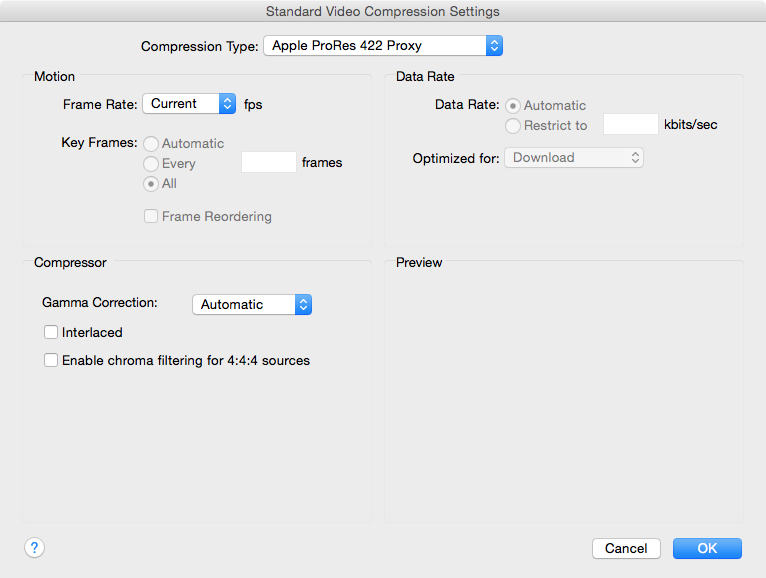 Click Ok in Compression Settings, then Ok in Movie Settings and Save in Export Settings to return to the Send To window.
Check Export Setting 2, select Export to Pro Tools, and click Options.
The Export Settings dialogue box will open. There are several settings here that must be checked:

Export As should be set to AAF. Check Use Marks, Use Selected Tracks, and AAF Edit Protocol.
Make sure Include All Video/Data Tracks in Sequence is unchecked. Check Include All Audio Tracks in Sequence to reveal the Audio Details tab.
Under Audio Details, the Export Method must be set to Consolidate Media. Set the Handle Length to 300 Frames. Be sure to check Include Rendered Audio Effects, Render All Audio Effects, Convert Audio Sample Rate to, Convert Audio Bit Depth to, and Convert Audio File Format to.
Set Convert Audio Sample Rate to 48kHz, Convert Audio Bit Depth to 24 Bit, and Convert Audio File Format to WAVE (OMF).
Under Media Destination set Audio to Folder, and check Use Same Folder as AAF File.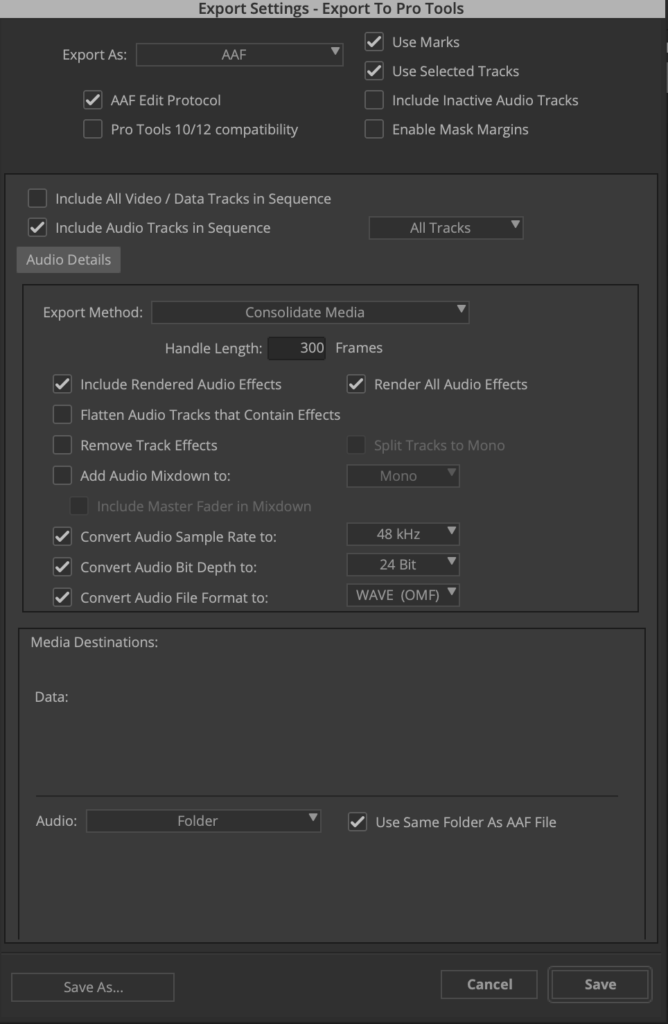 If you have used the Master Fader, take note of what you have adjusted. These adjustments will not be included in the AAF.
Click Save in the Options window and Ok in the Send To… window. Media Composer will export your AAF and related materials. Note that Media Composer will create new clips during this process which will appear in the same bin as your exported sequence. For organization, you may want to create a new bin for these new elements.
After the Send To… process is complete, Media Composer will have created two folders and two files. You will need all of these to create your Pro Tools session.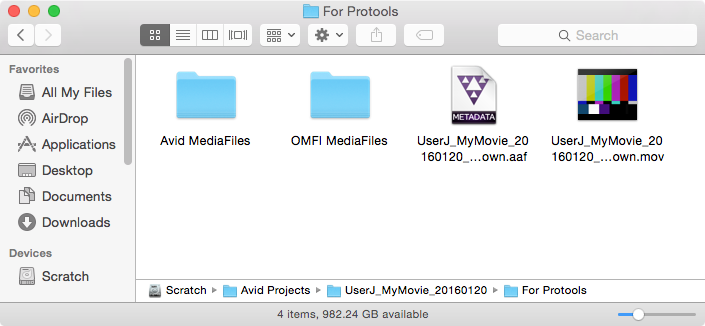 Importing AAF Files into Pro Tools
Launch Pro Tools. Check Create from Template. Choose an FV Edit template which matches your project frame rate. Ensure that File Type is set to BWF (.WAV), Sample Rate is set to 48kHz, and Bit Depth is set to 24-Bit. Leave I/O settings on Last Used. Make sure Interleaved remains unchecked and Prompt for Location is checked. Click Create and select a destination for your Pro Tools session folder, then click Save.
Be sure to save your session onto the Scratch drive or your external drive. Remember, home folders are deleted at log out!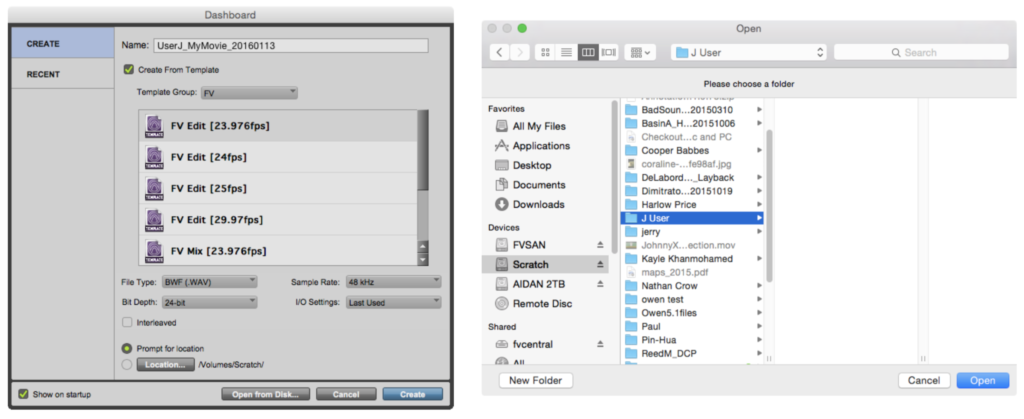 The Edit window of your currently blank Pro Tools session will come up.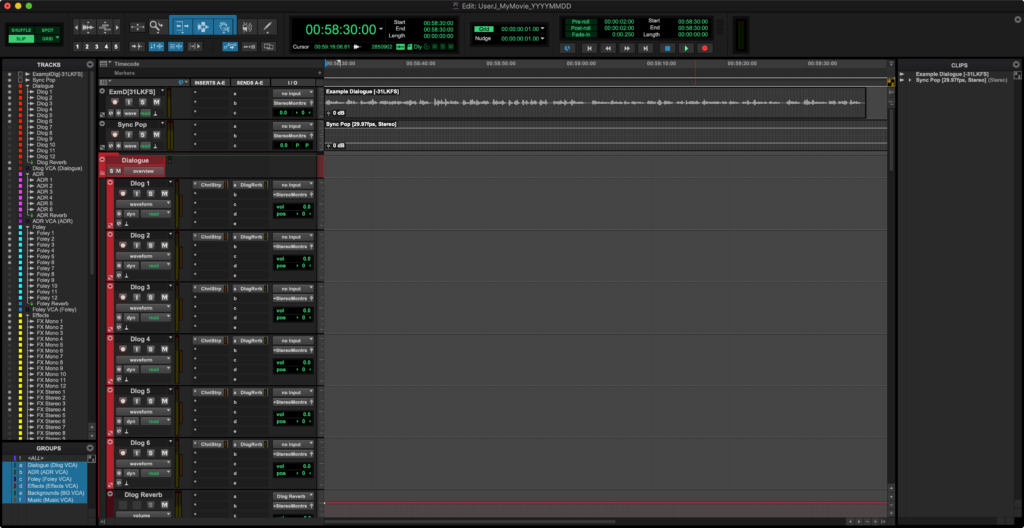 Before importing your AAF file, copy it from the location you specified during the export into your newly created Pro Tools session folder. This ensures that the media for your Pro Tools session is always in the same location.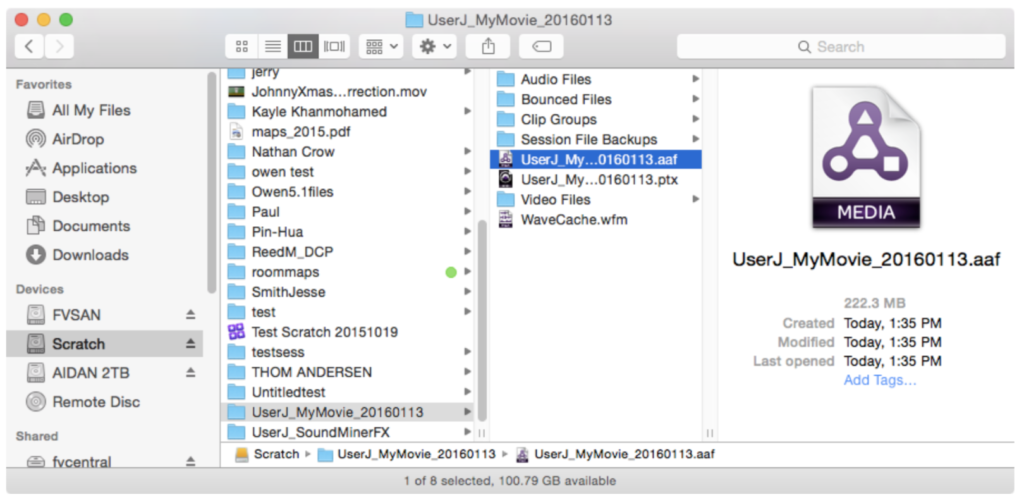 Now go to Setup > Session and check that the Session Start reads 00:58:30:00 and the Timecode Rate matches your project frame rate.

Click on the name of the Sync Pop track to select it. This way, the imported tracks from your AAF file will appear directly between Sync Pop and Dlog 1.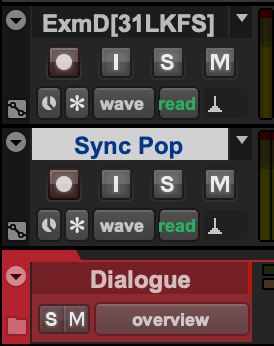 Imported tracks appear directly below whatever track you have selected prior to import. If you need to move a track, click on its name and drag it to the desired location.
Now to import your copied AAF file, go to File > Import > Session Data. Select the AAF file from your Pro Tools session folder. Click Open. You may get a message saying that the source start time is earlier than the current session start time. This is not a problem as long as your Media Composer timeline begins at 00:58:30:00, matching the Pro Tools session start time.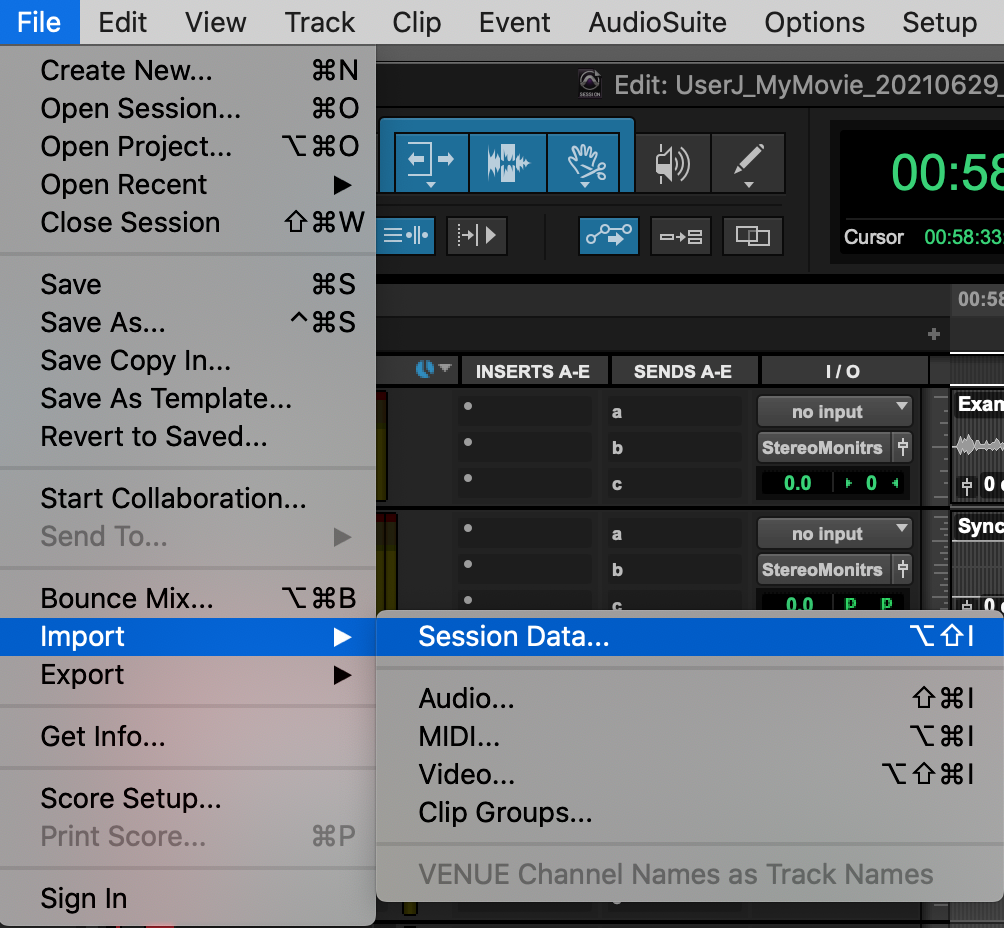 The Import Session Data window will open. Review Source Properties. Then Set Timecode Mapping Options to Maintain absolute timecode values and Set Audio Media Options to Copy from source media. Then check Import Rendered Audio Effects, Import Clip Gain, and Import Volume Automation. Click Ok.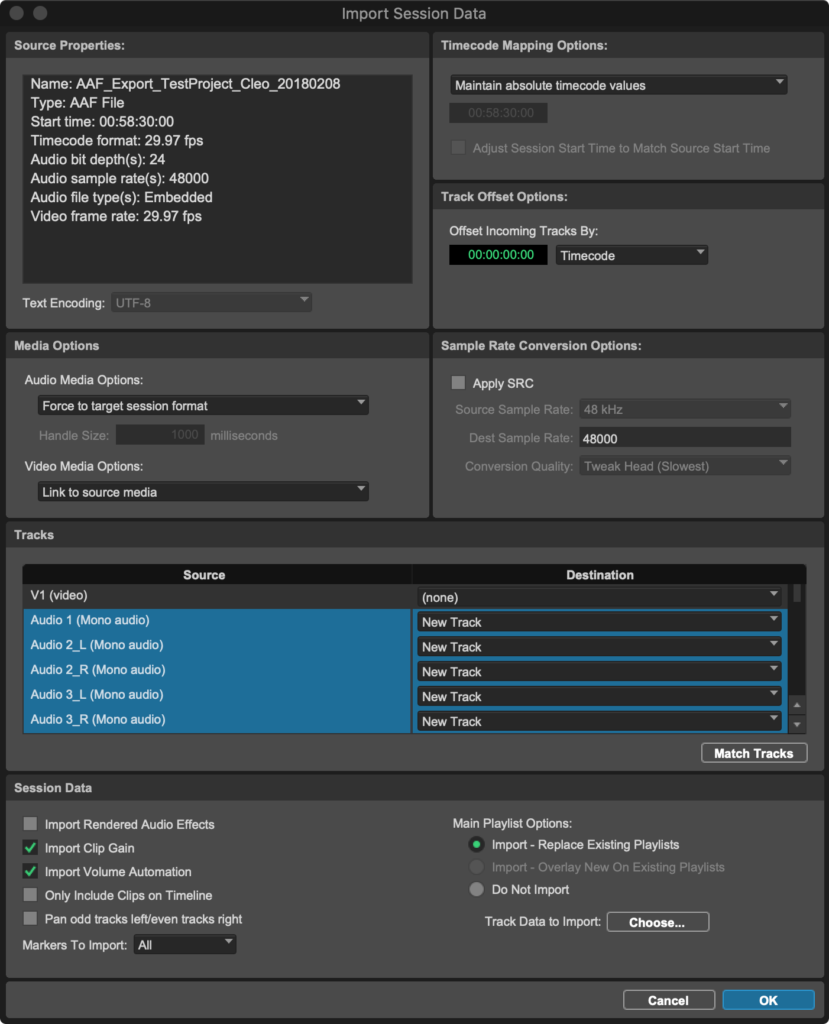 A Session Notes window may open saying "Some effects were ignored" and "Pro Tools does not support AAF/OMF references to multichannel audio files". This is fine; audio effects have already been rendered into new clips and any multichannel audio files you exported have been split to mono. Do not save a detailed report: click No.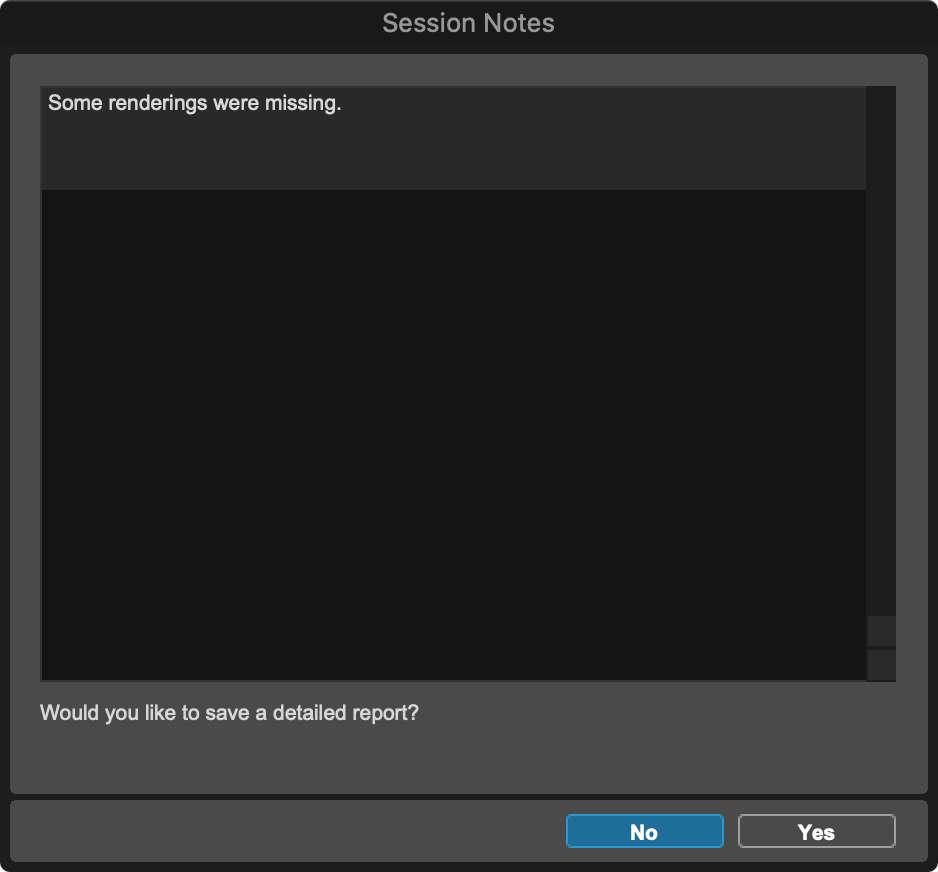 Your Pro Tools Session Edit window will now display your imported tracks and clips. Pro Tools will link the clips to the media in the AAF and then draw their waveforms. This may take several minutes to complete, depending on the size of your project.
Importing Video Files into Pro Tools
In the Finder, locate the video reference file that Media Composer generated. Copy it into the Video Files folder in your Pro Tools session folder.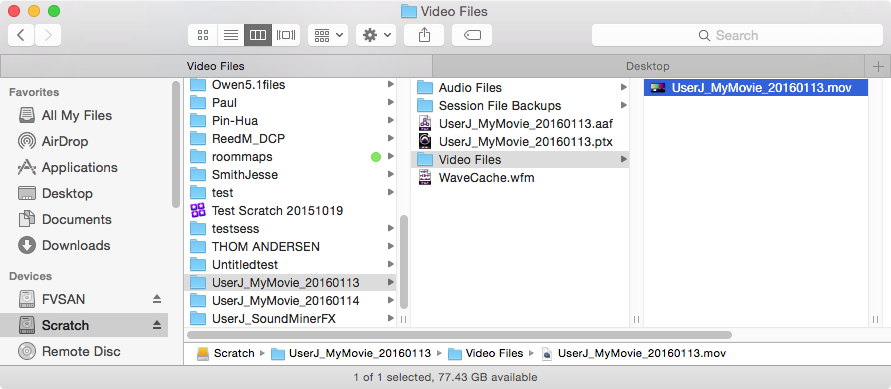 In Pro Tools, go to File > Import > Video and select the video reference file that you just copied into the Video Files folder in your Pro Tools session folder. Click Open.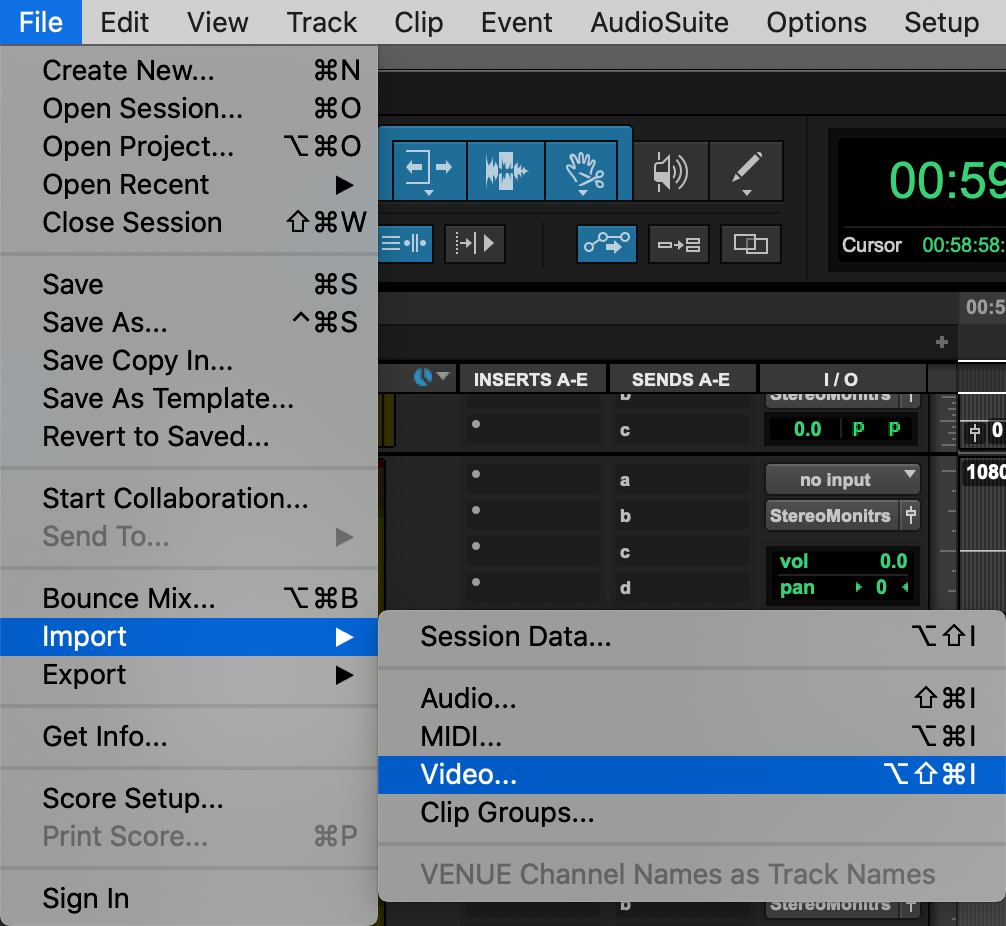 The Video Import Option window will open. Ensure that Destination is set to New Track, Location is set to Session Start, Import audio from file is unchecked. Click Ok.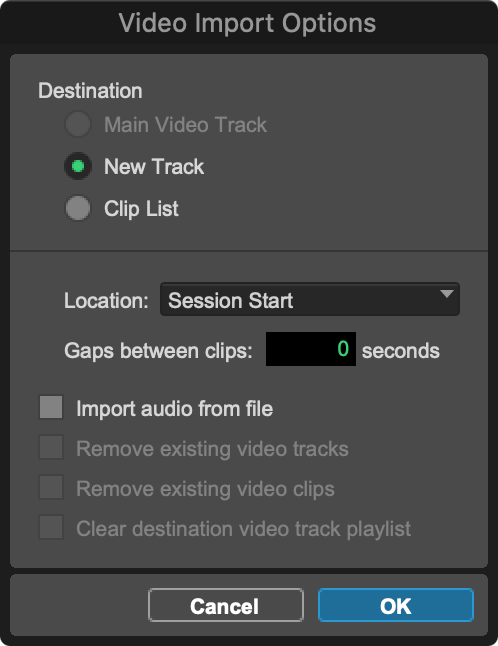 Your video will appear in the Pro Tools session timeline. To ensure sync, you must check that the 2 frame of your video leader lines up exactly with the 2 pop from your AAF. Click on the Main Counter and type in 00595800. Press Enter.

You can also get to the 2 pop by simply clicking on the yellow diamond 2 pop marker.
Zoom into the waveform of the leader. If the 2 frame and the sync pop from the leader align, you're in business!