Your Computer Account
Logging in for the First Time and Setting Your Password
On the login screen of any School of Film/Video computer, enter the username and temporary password provided. A dialog box will appear and you will be prompted to reset your password. Your new password must meet the CalArts IT password requirements. Though the username and password for your FVCentral account may be the same as your CalArts Hub and CalArts email account, the FVCentral account is separate and the password must be set separately.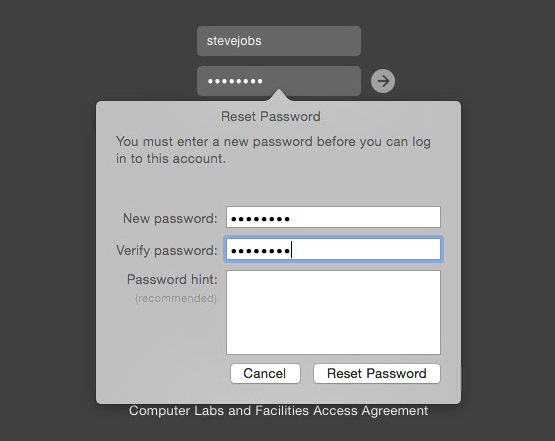 Passwords must contain a minimum of 8 characters, including at least one number, one uppercase letter, one lowercase letter, and cannot include your username.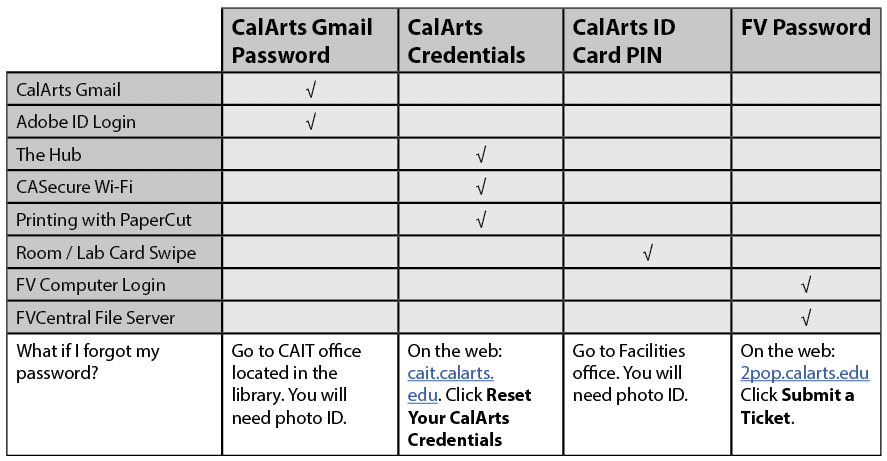 Your Computer Account
Every time you log in to a School of Film/Video computer a temporary local home directory is created for you. This home directory includes the Desktop, Documents, Downloads, Library, Movies, Music, Pictures, and Public folders. It is very important to remember that this home directory is temporary and is deleted every time you logout. This includes system and application preferences and anything on your desktop. Your FVCentral folder, the Scratch drive, and any connected drives are unaffected.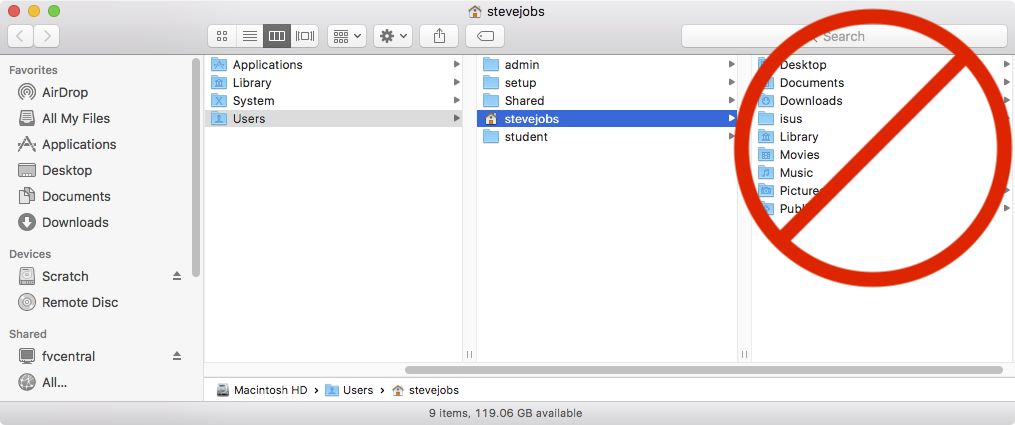 Do not save anything in your temporary home directory. It will be deleted when you logout. Save your files in your own flash/hard drive or your folder on the FVCentral server.
Once you login, you will see a simple gray desktop. The grayscale midpoint of the Rec. 709 color space was chosen to maintain neutral color perception while working in the labs.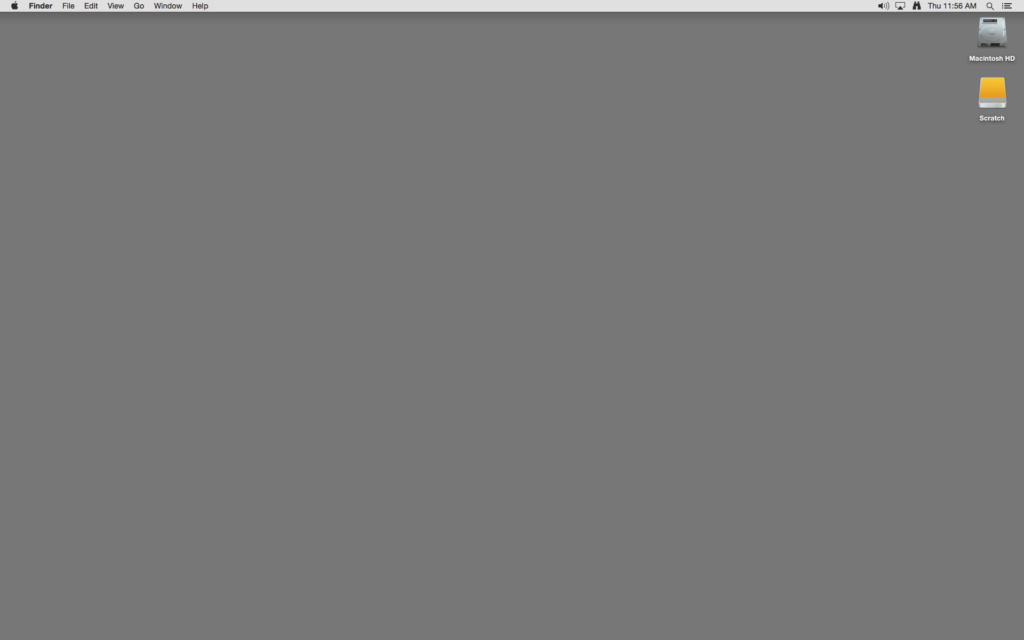 Move the mouse to the bottom of the primary display to reveal the dock. The dock contents will vary from computer to computer and lab to lab. The dock is populated with the most commonly used applications and shortcuts for the computer and lab you are currently logged into.

The Macintosh HD is reserved for software and systems administration use only. Software installation of any type is prohibited. No user files are permitted.
The Scratch drive is high performance local storage you can use while working in the labs. Since the Scratch drive is not secure and may be erased at any time, copy your files to your production drive, backup drive and/or your FVCentral Private folder when you are finished working. Keep in mind that files on the Scratch drive are local and not available on other computers. While working on the Scratch drive, it's a good idea to create a folder (name it your full name) to store your files.
Remember that Scratch drives are not private, not secure, and may be erased at any time. Data on Scratch drives may be subject to deletion if space is needed by the next user working on the computer. Scratch drives are often reformatted, erasing all data during maintenance time to keep them operating at peak performance.
Be sure to log out when you are done working to prevent unauthorized use and keep your data secure. Select Apple Menu > Log Out…
FVCentral File Server
Every School of Film/Video student has a folder with 250GB of storage space on FVCentral. To access your personal folder, open a new Finder window, click fvcentral on the sidebar, then click on the FVCentral share point and in the Students folder, look for your name. Inside your folder, you will find five subfolders: Depositbox, Private, Public, Renderfarm, and Saved Preferences.

Clicking on the Open Your FVCentral Folder script in the dock is a shortcut to automatically open your FVCentral folder in the Finder.

The Depositbox folder is an easy way to share files with other users. You can copy and paste (or hold down Option while you drag and drop) a file or folder you would like to share into any user's Depositbox. You will still be able to see any files that you add into another user's Depositbox, but not files added by other users. The owner of the Depositbox will have full access to the files, regardless of the user that added it. If you want the file to be private or to prevent the person depositing the file from making additional edits, move the file to your Private folder.
The Private folder stores personal files that other users will not have any access to. This is your main folder for storing files.
It is best practice to copy your files to a local drive such as the Scratch drive or your flash/hard drive before you begin work. Once you are done working you can copy your files back to your flash/hard drive or your FVCentral folder. Be sure to close all files before copying. Do not work directly off your FVCentral folder. Working directly off your FVCentral folder can cause decreased performance for everyone logged in.
The Public folder is a good place to put files that you want everyone to be able to see and read. Only you can write and edit files in your Public folder.
The Saved Preferences folder is used by the Save and Restore Preferences Script. Do not use this folder for any other files.
The Courses folder is a place for faculty to make course materials available to students. Each faculty member may structure their Courses folder differently, so check with your faculty regarding its use. To access Courses folders, open a new Finder window, click on fvcentral in the sidebar, then click on fvcentral share point and in the Faculty_Staff folder, look for a faculty member by name.
You can connect to FVCentral on your own personal laptop when on campus and connected to CASecure Wi-Fi. See the tech docs on 2 Pop Support for connecting with a Mac or PC.
Since you have a limited amount of storage space on FVCentral, it is a good idea to periodically check how much you are currently using. Select your personal folder in the Finder and go to File > Get Info. Your current usage is located on the upper right-hand corner of the Get Info window. If you exceed your 250GB quota, you will not be able to save any new files to your folder until you free up some space by deleting files that are no longer needed.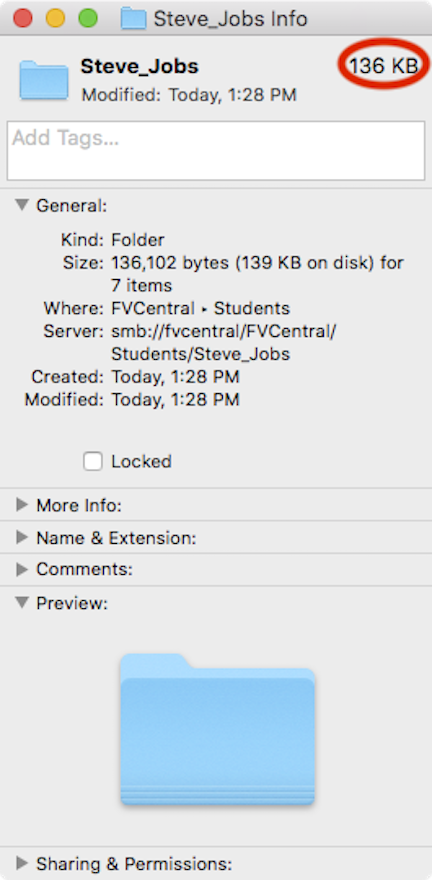 Submissions with FVCentral
The Submissions folder is a place to submit files for various purposes; for example: submissions for shows, festivals, scholarships, sound mixes, laybacks, etc. To access the Submissions folder, open a new Finder window, click on fvcentral in the sidebar, then click on the fvcentral share point and find the Submissions folder. Each folder within the Submissions share point may be structured differently, so follow individual submission directions carefully. It is critical to properly name your file using the standard naming convention before submitting. See the Digital and Film Workflows section of this handbook for our standard naming convention.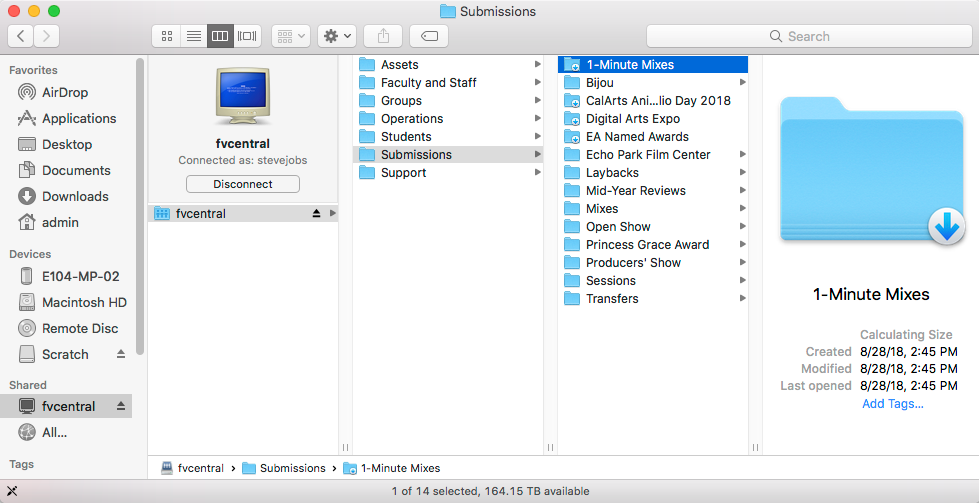 Generally you can copy and paste (or hold down Option while you drag and drop) a file or folder you would like to submit onto a specific submission folder. You will be able to see any files that you add into a submission folder, but not files added by other users.
Saving and Restoring Preferences for Selected Applications
You are able to save and restore your preferences for selected production applications. This is very useful since all settings are reset each time you log out. It is best to restore your preferences as a first step when you log in and to save your preferences as a last step before you log out. Be sure to quit all applications before running either the Save or Restore Preferences scripts since this can cause corruption in your preferences.
The following apps are currently supported with the Save and Restore Preference scripts: Maya, VueScan, TV Paint, Cinema 4D, Photoshop, After Effects, InDesign, Illustrator, Bridge, Premiere Pro, and Media Encoder.
To restore your preferences, click on the Restore Preferences script in the dock. There is a dialog box reminding you to quit all applications. Once all applications have been quit, click Yes. Once the Restore Preferences script has finished running, you may begin using your applications.

You will notice the Terminal application opens when running any of the scripts in the dock. When the script is finished running, the Terminal is hidden. Be sure to wait until the Terminal hides before opening any application or logging out. The Terminal can be left running in the background without issue.

To save your preferences, click on the Save Preferences script in the dock. There is a dialog box reminding you to quit all applications. Once all applications have been quit, click Yes.

Be sure to run the Save Preferences script prior to logging out so that any changes you made to your application settings will be available the next time you work.
Surfing the Web
You may have noticed that both Chrome and Safari are available in the dock. Each has different uses as it pertains to School of Film/Video computers.
Safari is where bookmarks pertinent to CalArts are preset. In the bookmarks bar, you'll find bookmarks for 2 Pop, FV Peer Support, CalArts IT, CalArts Hubtime, etc. Changes to bookmarks in Safari are not saved and will be deleted when you logout.
Google Chrome is recommended for your personal bookmarks, history, and settings. If you log in using your CalArts email address or your personal gmail account, Chrome will sync bookmarks, history, and settings across all your devices (even off campus). This is very useful since Chrome's bookmarks, history, and settings are reset each time you log out. When you launch Chrome you are taken directly to the "Set up Chrome" page.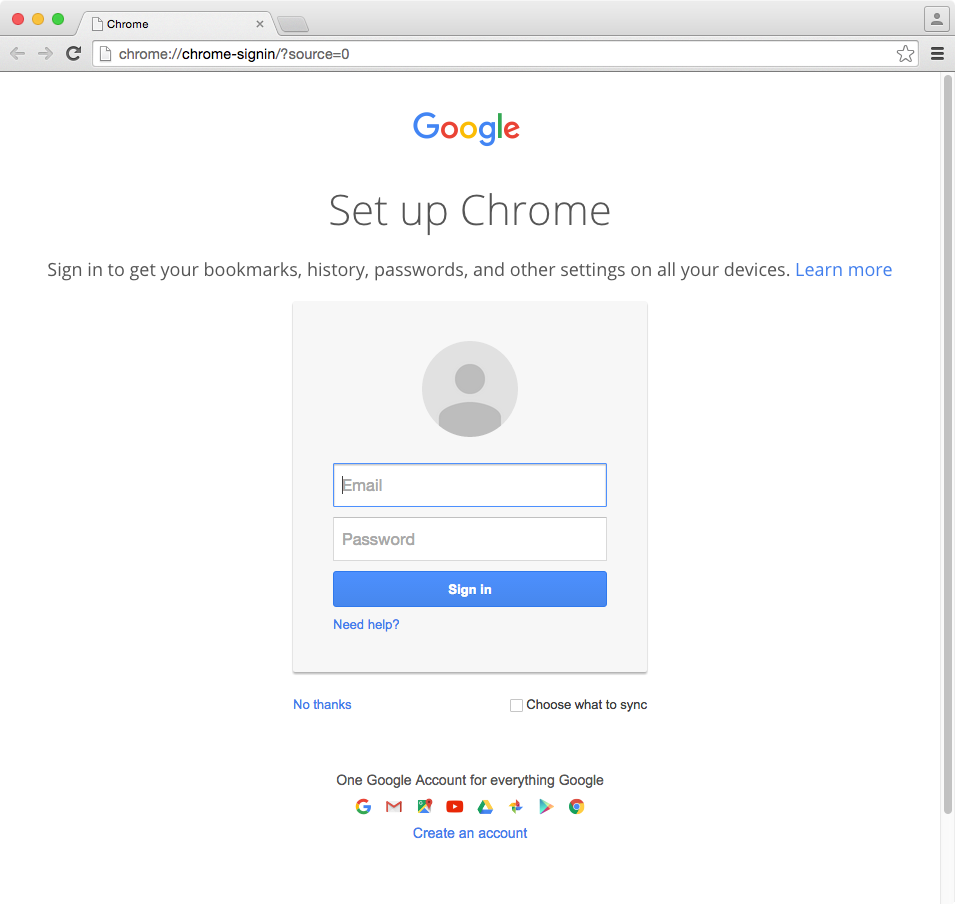 Printing Using PaperCut
The School of Film/Video, like much of the Institute, is using PaperCut software to manage printing. When sending a print job, select the printer you would like to print to and click Print, and the job will be sent to the print server.
A dialog window will open, asking you to use PaperCut. Use your CalArts credentials (not your FV password) to log in. You will remain logged into PaperCut until you log out of the computer, so you only have to enter your credentials once during a work session.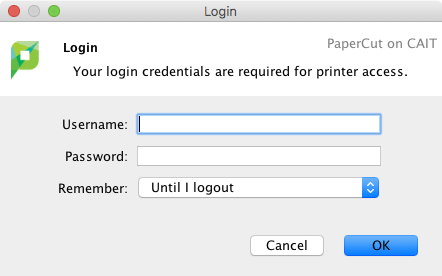 A second window will show your document's name, the printer you are sending it to, and the cost of the print job.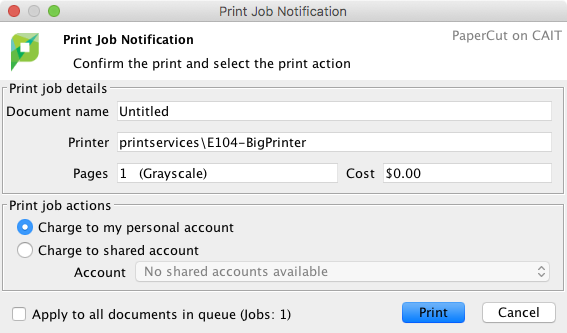 You can check your account balance, add funds, and transfer funds by going to printservices.calarts.edu and logging in with your CalArts Credentials.
Finding Files
Although it is possible to use Spotlight, the built-in search tool in macOS Mojave, you may want to try using the Find Any File application. Find Any File is often more thorough, allows you to set your search location, and has many advanced search functions.

Maintenance
Every Friday from 7:00 am to 9:00 am, staff perform server and computer maintenance. There is no access to the labs, computers, and servers at this time. There may be additional maintenance times that vary.
Computers may be remotely managed for various maintenance tasks. When not being remotely managed, the menu bar will display a set of binoculars. When being remotely managed, this icon will change to a set of binoculars inside of a display.

Getting Help with 2 Pop Support
The best and fastest way to get tech help is to submit a request with 2 Pop Support. Click on the Submit a Ticket bookmark in the dock to open the 2 Pop Support website. Tech staff is available Monday through Friday from 8:30 am to 8:30 pm.
You can also click the "Submit a Ticket" button at the top of this page or send an email to 2popsupport@calarts.edu from your own device.
Be sure to provide the room number, computer number, screenshots, and a detailed description of the issue you are having so we can better help you.