Production Equipment Access
While CalArts classes will be remote in Fall 2020, the School of Film/Video remains committed to providing full-time students with production equipment this semester. Whether you're living in the Greater Los Angeles area or elsewhere in the continental United States, we've designed options for accessing production equipment this fall.
Long Term, Short Term, and Course Support Packages
There are now three pathways for production equipment reservations, each addressing different modes of production. Please review the chart below for details about each pathway.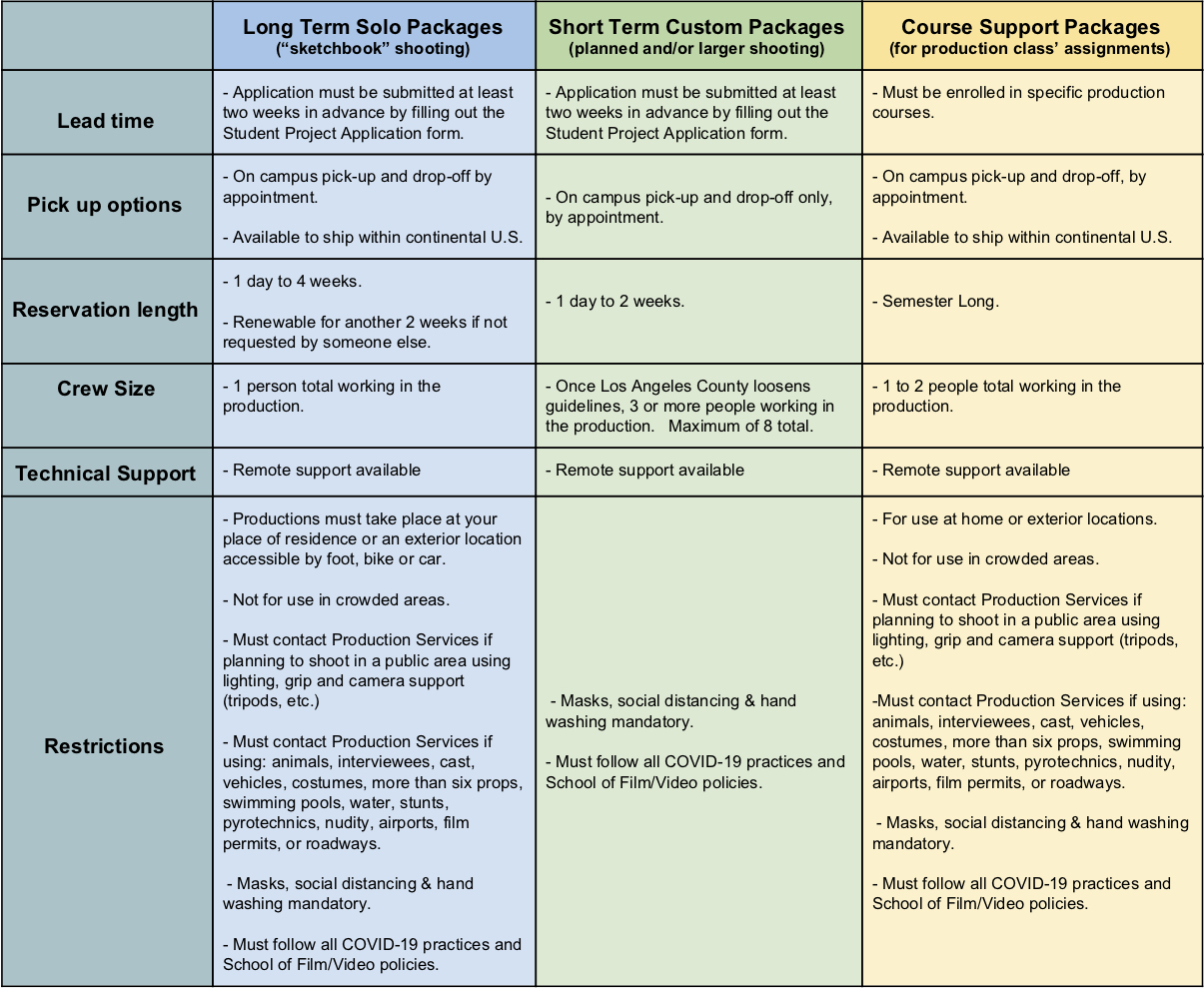 Curbside Pickup
For those of you able to drive up to campus, we will provide curbside pick up for production equipment. To abide by COVID-19 guidelines, and to maintain the health and safety of our students and staff, we've reorganized the cage inventory for the 2020-2021 school year into Short Term Custom Packages. These are divided into camera, audio, lighting, and grip packages, and you can add specific accessories depending on what you've selected.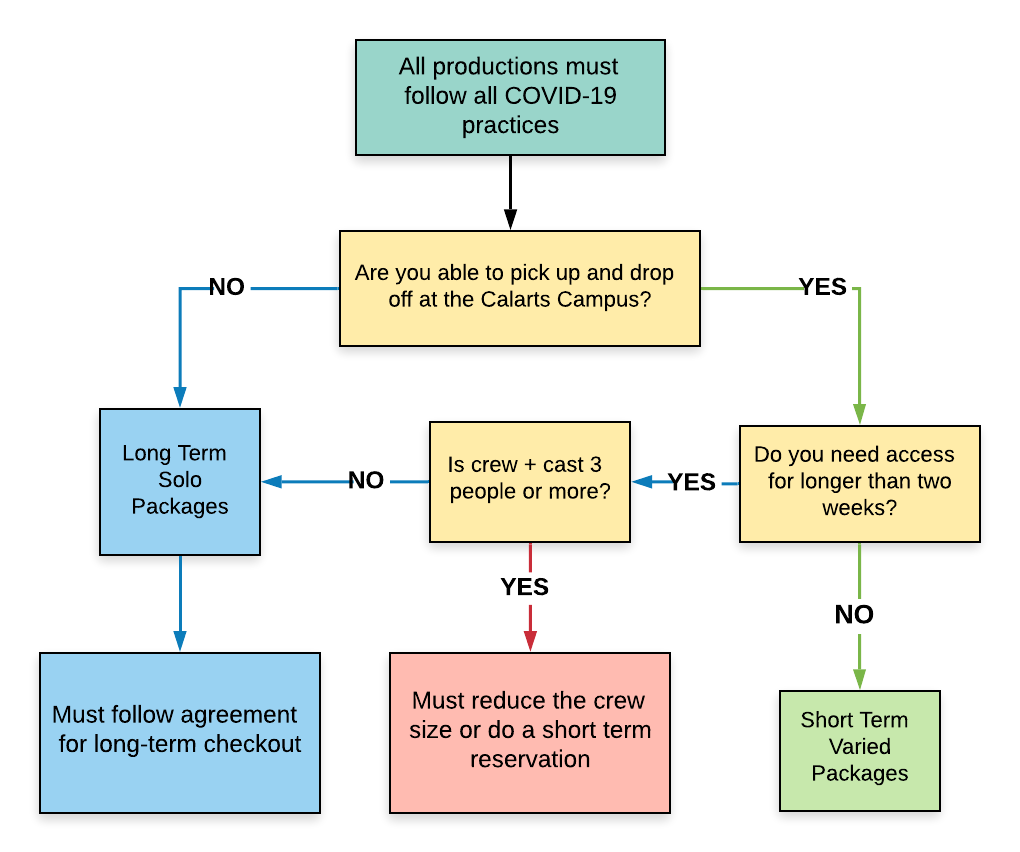 Reservations for the Short Term Varied Packages have a two week maximum limit. Thorough planning on the student's part will be required to ensure productions will follow all COVID-19 safety guidelines and other School of Film/Video policies. Pick-ups and returns will happen by appointment only, on the 2nd floor upper loading dock, outside the Cage.
Simplified Long Term Solo Packages (see table below) will be available for pick-up as well as shipping. These will help facilitate simpler, "sketchbook" types of productions, provided that you follow specific parameters for long-term reservations. Items in these packages are not adjustable.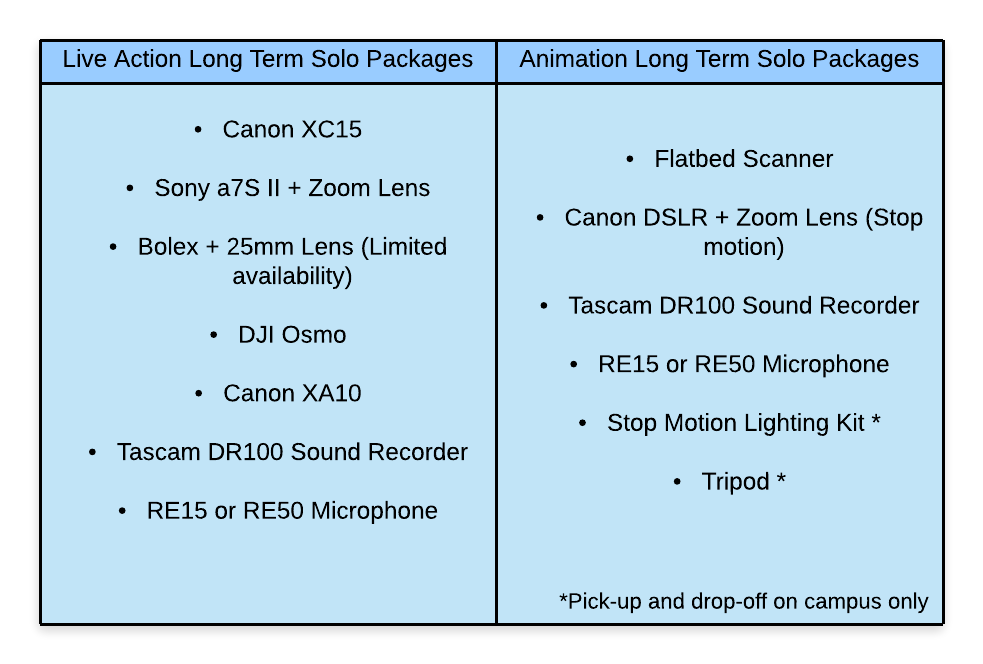 Shipping Equipment
For students in the continental U.S. who cannot pick up equipment on campus, we can ship simplified Long Term Solo Packages. Reservations may be up to one month, with the option to request an extension for two weeks. Extensions are available only if the equipment has not been reserved by someone else. Equipment shipping is only available within the continental United States. These packages will fit into a single shipping box, and all necessary materials to ship the equipment back to CalArts will be provided. Due to shipping limitations, and to keep health and safety a priority, items like tripods, lights, grip gear and high-end cameras will not be shipped. Specific production parameters for long-term reservations apply.
Student Project Application
For Fall 2020, we have a new online reservation form, the Student Project Application (SPA). This integrates communications about your project with your faculty, production services, the cage staff, and the production/installation spaces (available when the state and county authorities approve reopening the campus to non-essential activities).
This application must be completed at least two weeks in advance from when you plan on picking up equipment. Once you submit the SPA form, you may be contacted by your faculty or staff members with questions or issues of availability. This will ensure that all School of Film/Video productions will be safe and comply with COVID-19 guidelines. It will also streamline the process for you to make all your necessary reservations in a single online form.

Important Dates
The following table contains important dates for student productions. Take notice that since Winter Session will happen remotely this school year allowing for Winter Break reservations to last through Jan 25th.