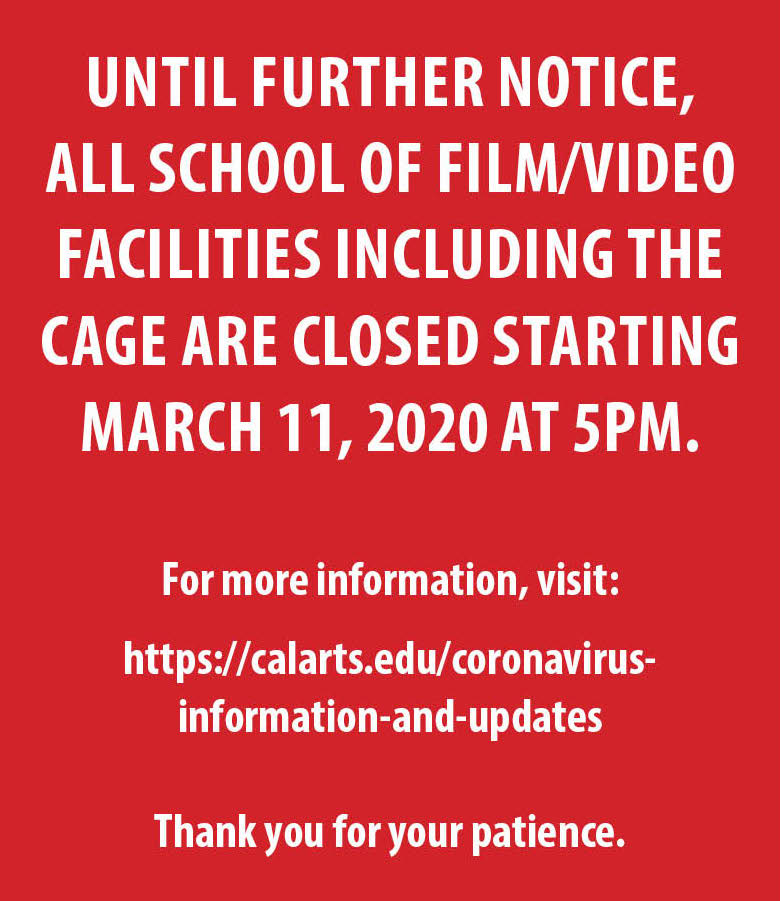 CalArts has cancelled all classes and in-person activities beginning, Wednesday, March 11 through Sunday, March 22. This is a precautionary measure. There are no cases of COVID-19 at CalArts. 
During the suspension of classes, faculty and staff will prepare the Institute for remote instruction beginning Monday March 23. From 5pm March 11, students will not have access to the F/V Facilities. With this in mind, Film/Video faculty will make some adjustments to project deadlines and expectations. These details are not yet worked out, but will be soon. Please keep checking your email for information.
F/V facilities will be closed to students until further notice. This includes:
Computer labs
Classrooms
Production studios/shooting stages
Student cubicles & studios
Butler Buildings
The Palace
Cage & other equipment check out areas
Sound and post-production spaces
We understand this is very challenging for students, especially those who depend on the F/V facilities to do your work. This decision was not reached lightly and is an emergency measure to prevent possible spread of the coronavirus.
We'll continue to update F/V students, faculty and staff as things develop. Thank you very much for your patience and help in keeping our community healthy and safe.
For more information, visit CalArts' page on the Coronavirus: https://calarts.edu/coronavirus-information-and-updates