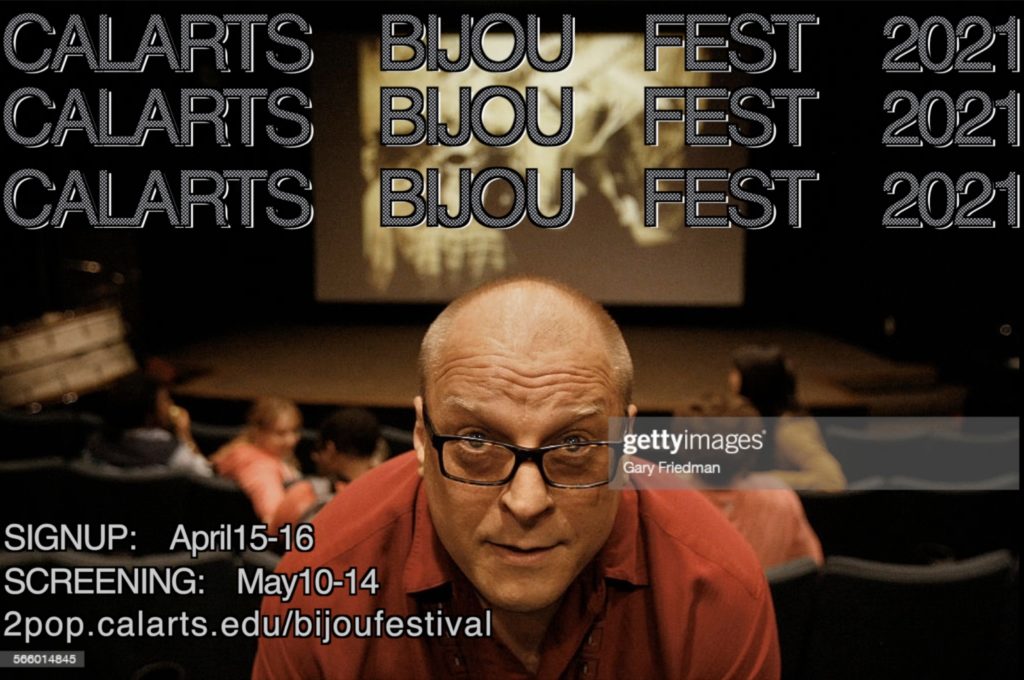 Bijou Fest is the School of Film/Video's end-of-year film festival that screens any and all work submitted, made by Film/Video students during the 2020/21 and 2019-20 school year! For the entire week leading up to graduation (May 10-14) we will have an online stream of fantastic, wonderful, strange films, class screenings, and performances. This year's Bijou Fest is programmed & organized by faculty advisor Ryan Betschart and a team of students from his Navigating Film Festivals course. Give us your work!
CALL FOR SUBMISSIONS*:
Submissions close on May 3rd at 12:00pm
*In no way will screening at Bijou Fest hurt film festival premiere status. Works screened within a school setting are considered works-in-progress regardless of how completed they are. For more information on submission status email: bijoufestival@calarts.edu
DATES: May 10th-14th
Lineups will be revealed the first week of May/The week before Bijou Fest
Follow twitch.tv/calartsfv
CALL FOR 30 SEC VIDEOS:
Bijou Fest Team Mochi is looking for under 30-sec videos for this year's online streaming Bijou week. Anything ranging from 1 to 30 seconds will be played in between the screenings as interstitials! Videos of loops, glitches, tik tok, pillow shots, dramas, dances, musical performances, cooking shows, ASMR, emotional support animals (meow), etc., are all welcomed! Deadline for submission: April 18th, 2021
This call of entry is open to all CalArts students, alumni, faculty, and staff!
Please fill out the entry form to submit your Under 30-sec Videos:
https://forms.gle/ipbuuYwU5QpSYBbE9
Send questions our way! bijoufestival@calarts.edu we are here to help where we can!
Bijou Fest 2021 Team:
Ryan Betschart (Faculty Supervisor)
Alex Broadwell
Erica Sheu
Gary Hankins
Zazie Ray-Trapido
Wylie Rush
Da Hee Kim
Bea Vischer
Leonardo Pirondi
Elizabeth Martin
Hannah Panov
Arden Dimanno
Gabrielle Galloway
Brooke Harbaugh